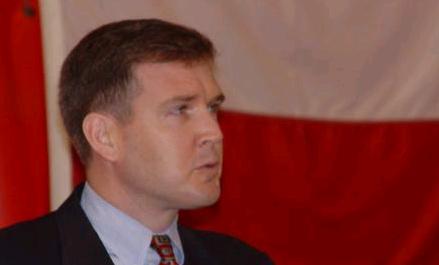 by MATT FRIEDMAN
PoliticsNJ.com
Potential U.S. Senate candidate Michael J. Doherty has tapped Republican Congressman Scott Garrett to head his exploratory committee, a move to show he is the candidate of the state GOP's conservative wing.
Garrett will serve as a co-chair with Senate Minority Leader Leonard Lance, who comes from the more moderate, establishment wing of the state GOP. Garrett and Lance provides the Doherty campaign with some ideological balance as he mulls a challenge to four-term incumbent Frank R. Lautenberg.
"I think that it is essential to beating Frank Lautenberg," said Doherty, a four-term Assemblyman from Warren County. "I do think that my views on national security, energy and border security are reflective of the views that of Republicans across the spectrum and New Jersey citizens across the spectrum."
In a phone interview, Doherty lamented what he considered his unfair portrayal as a one-dimensional social conservative. While he is proudly pro-life and pro-gun, the West Point grad wants more people to listen to his foreign policy message: that the Iraq War was a mistake — though he said he does not support a timetable for withdrawal — and that he would never commit US Forces to fight abroad without a formal declaration of war.
"If we cannot get a declaration of war, I will not support putting troops into combat ever. That is my message that I'm going to run on," said Doherty.
One possible rival, former New Jersey Chamber of Commerce President Anne Evans Estabrook, has declined to comment on her position on Iraq.

Garrett becomes the second of New Jersey's six GOP Congressman to pick a horse in next year's U.S. Senate primary. Rep. Michael Ferguson has agreed to serve on Estabrook's exploratory committee.