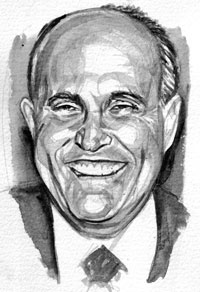 The Clemson Tigers won their first 17 basketball games last season—the best start of any of the 350 or so college teams in the country—and yet were still dismissed by hoops pundits, who scoffed at their cream-puff schedule and predicted a sharp decline when the competition stiffened. Sure enough, the Tigers dropped 10 of their next 14 games and failed to qualify for the NCAA tournament.
Similar skepticism accompanies Rudy Giuliani, who has sprinted to the political equivalent of a 17-0 start in his bid for the Republican Presidential nomination, building double-digit leads over his nearest rival, John McCain, in early polling and amassing a robust campaign treasury. Political cognoscenti have long held that once Mr. Giuliani's history of social liberalism (and painfully public adultery) is properly aired, a disgusted conservative base will revolt and undermine his standing.
And surely, if ever there were a time for those dire forecasts to be realized, it is now, as a confluence of events has turned popular attention to the very emotionally charged issues on which Mr. Giuliani is supposedly so vulnerable.
First, the ghastly Virginia Tech shootings prompted renewed discussion of gun control, a concept Mr. Giuliani has long embraced. Then the Supreme Court broke with its own precedent and affirmed a federal ban on late-term abortions—hardly the topic that Mr. Giuliani, loudly pro-choice in his New York days, wants Republicans fixating on.
And now the gay marriage debate is back on the front burner in—of all places—the pivotal lead-off primary state of New Hampshire, where that state's Democratic governor, John Lynch, will soon sign a civil-unions bill. At the same time, in the home state of Mr. Giuliani—who famously took up residence with a gay couple after his second marriage imploded late in his Mayoralty—Governor Eliot Spitzer is now prodding the Legislature to extend marriage rights to gays.
Surely, all of this will be more than enough to sentence Mr. Giuliani to the same dreary fate as Arlen Specter and Pete Wilson, the last two pro-choicers to run for the G.O.P. nomination.
Or maybe it won't.