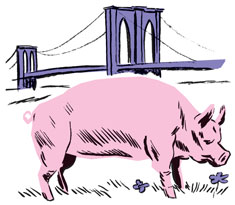 Ah, pork. The other white meat. Chops are lean, healthy and flavorful; the sight of slab bacon can make a person salivate. But nothing is so enticing as a big rack of ribs—all those bones lined up so neat, drenched in sauce and thrown over a smoke pit.
Don't agree? Stop reading. But if you do, head over to the Tobacco Warehouse in Brooklyn Bridge Park on Saturday, May 12, for the Seventh Annual Brooklyn Pigfest. Sam Barbieri of the Waterfront Ale House will be serving up three whole hogs slow-cooked over 20 hours, and Brooklyn Brewery will be providing the beer. (And seriously, no worries for the non-oinkers: There will also be chicken, beans and a host of other stuff if pig's not your thing.) You will need a ticket—$75 in advance, $85 day of—but that fee buys you all you can eat and drink. By New York standards, it's a decent deal.
Also, proceeds go to the Brooklyn Bridge Park Conservancy, so you can gorge guilt-free.
For details on Brooklyn Pigfest go to http://www.brooklynbridgepark.org/