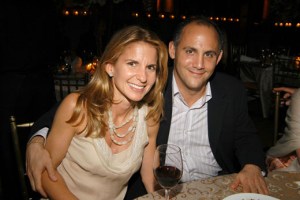 LULU MEETS GOD AND DOUBTS HIM
By Danielle Ganek
Viking, 277 pages, $23.95
Another precinct heard from.
In it lounges Danielle Ganek, who, as one-half of a powerful collecting couple (her husband is hedge-funder David Ganek), isn't the most obvious candidate to write a novel stripping the paint off the art world.
Maybe because Ms. Ganek tarried while younger in the grungier trenches of Woman's Day and Mademoiselle, though, her Lulu Meets God and Doubts Him manages to descend just a few notches from the Olympian heights of chauffeur-driven gallery-hopping and museum galas. The fiction lifted from her current life by this very much former style editor also mixes it up with Chelsea dealers' assistants ("gallerinas") and working artists, scholarly sellouts and mishandled art handlers, unscrupulous auctioneers and, most noticeably, a coterie of collectors so awful it's depressing. The book is a nice corrective to today's financial run-up masquerading as a passion for art.
May we present Mia McMurray, reluctant employee of the struggling Simon Pryce gallery? She has a weakness for bad-bet men and a hidden clutch of unfinished paintings she keeps telling herself means she's really an artist. Mia is not alone in having a secret agenda: Her boss' gamble on an unknown, middle-aged American expatriate painter—who conveniently and mysteriously dies just as his sensational first show opens—sets off a series of intrigues and a stampede of reprehensible behavior. Much of it swirls around Lulu, the dead guy's long-lost relation, captured as a child in his giant masterpiece, Lulu Meets God and Doubts Him.
Mia likes to talk endlessly about all of this—the style of the book is in-your-face-conversational—except (sometimes) during her steamy interludes in bed with a gentleman who may or may not turn out to be the hunk of her dreams. Her chattiness veers toward one-liners that go well with canapés and champagne. One collector is "so far uptown, he lives in Greenwich, Connecticut." There's a party at a restaurant "over the border in Germany, where the elusive white asparagus is in season for only a short time that happens to coincide with Art Basel."
Mia mounts a stalwart defense of hedge funds (what girl wouldn't?), and then lets us know that buying and selling pricey paintings "is the last bastion of legal insider trading." When she opines about art, on the other hand, she gets all thick and Kantian.
Just in case potential readers might miss the fact that the genre this book sensibly belongs to is chick lit, its cover type and spine are hot pink, and its dénouement ruefully romantic. Though treating a novel too much like an artifact could be construed as materialistic—or a frivolous allusion to art as appropriation—don't miss the bonus entertainment of flipping to the backside of the book, which is adorned with quotes from such literary authorities as Larry Gagosian and Vera Wang. Better to have blurbed this book than to be skewered by it.
Celia McGee is a book critic and arts writer who lives in New York.