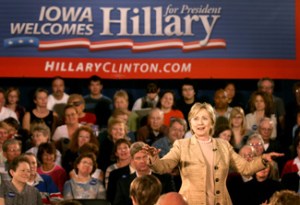 COUNCIL BLUFFS, IOWA—A day after the tornadoes and brown floodwaters swept across western Iowa, it was Hillary Clinton's turn to make landfall.
Flying in directly from a high-dollar fund-raiser at a wealthy supporter's house in Indiana, Mrs. Clinton brought with her the most formidable political operation that money could buy and the most recognizable name in Presidential politics. She was, for all intents and purposes, the intimidating front-runner.
But that is exactly the impression of Mrs. Clinton that her campaign is intent on dispelling—especially in Iowa. Hence the small, low-profile events they've been relying on to showcase her retail skills and, essentially, to make up ground by playing against type.
"I appreciate you so much being here. I apologize for running a little bit late," said Mrs. Clinton to a few hundred voters crammed into the humid cafeteria of the Lewis Central Middle School in Council Bluffs, Iowa. "We've had some pretty bad weather."
In mostly intimate, theater-in-the-round events that often attract shockingly little national press attention (by Hillary standards), Mrs. Clinton is both perfecting her act and trying out new material—like discussing her recent proposal to revoke authorization for the war in Iraq.
The cozy format of the appearances is the result of a deliberate calculation by the campaign.
"We suggested that in Iowa, the whole key to winning a caucus and doing well in a caucus is relationships. And you have to develop a relationship, you have to make a connection with people—and it's tough to make that connection when you're in a hall of 5,000 people," said former Iowa Governor Tom Vilsack, who is one of the Clinton campaign's national chairs. "They see her, they touch her, they talk to her; they realize she is personable, she is passionate, she's intelligent and warm."
On Sunday afternoon, Mr. Vilsack had a front-row seat to the show. Mrs. Clinton was dressed in a cream-colored pantsuit, pearls, sparkling earrings and gold bracelets. She pinned an unobtrusive black microphone to her lapel and paced a rectangle of blue carpet stuck to the linoleum floor by a perimeter of electric tape. Around her, approximately 350 men and women sat on aluminum bleachers or folding chairs and wore Hillary stickers on their shirts and mesh-backed ball caps. Four local television cameras pointed at her from a short riser. One was a camcorder.
For the event, Mrs. Clinton had done her best to camouflage her campaign's machinery. Darkly clad Secret Service agents tried to blend into a black curtain under the Iowa state flag. Across the room, campaign aides sought invisibility under a banner listing the ideal character traits of the school's students: "responsible, respectful and positive."
Mrs. Clinton began by offering her own trinity of principles, saying that her late father had instilled in her the values of hard work, individual responsibility and self-reliance. Her mother, she said, had a tough childhood, being the product of teenage parents who divorced, "which wasn't all that common" in the 1920's.
After the impeccably folksy introduction, Mrs. Clinton launched into a display of the breadth of her specific knowledge on policy, covering the environment, the Justice Department firings, health care, alternative fuels, stem-cell research, jobs, homelessness and mental health.
She also gave her first explanation to Iowa voters of the new Iraq bill she signed onto with Senator Robert Byrd.
"On Oct. 11, 2007, we are going to have a fifth year where this President has taken us to war in a pre-emptive fashion in Iraq," she said. "The authorization will be five years old. We believe we should repeal that authorization—whatever justification anybody thought at the time no longer exists."
Left undiscussed were the politics behind that new policy, which seems perfectly designed to inoculate Mrs. Clinton against the question of why she voted to authorize the use of force in Iraq in 2002, and why she hasn't made a show of contrition since then.
On Sunday, the new course seemed to be working. The applause following Mrs. Clinton's Iraq comment drowned her out, and when it finally petered out, she had already transitioned into statements of support for the troops, and what she said was "story after story" about soldiers returning from the war to find inadequate care.
She responded to some questions with answers like "That is a very true statement, and I thank you for saying it," before going on to talk about the issue at hand.
Whenever possible, she demonstrated her maternal side, as when she called on a little girl with a pink bow in her hair.
"That is a wonderful question. What is your name?"
"Emma," said the little girl.
"Emily?" asked Mrs. Clinton.
"Emma," the little girl said.
"Emma? Thank you, Emma," said Mrs. Clinton, memorizing the name out loud. "That's my mother's middle name—Emma. Thank you very much."
The question turned out to be about how we can protect the environment.
In an interview after the event, Mr. Vilsack explained what Mrs. Clinton was up to.
"What's going to happen here is that, as she campaigns around Iowa, she will meet people with compelling stories," he said, as he accepted cards filled out by Iowans volunteering to caucus for Mrs. Clinton. "And she is going to tell those stories. And when you tell a story, you connect with people."
One member of the crowd offered a more dispassionate analysis.
"I noticed that when she was speaking, she tried to scan the crowd and look everyone in the eyes," said Dylies King, a 36-year-old human-resources worker from Council Bluffs. Also: "It was interesting that nobody asked her about the war."