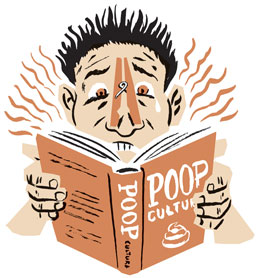 What are the cultural implications of today's version of last night's chicken-salad sandwich? Dave Praeger, the author of Poop Culture: How America Is Shaped by Its Grossest National Product, will answer this and other pressing excrement questions at his book's release party on May 8. The fetid fête, to be held from 7 to 11 p.m. at Williamsburg's Galapagos Art Space, promises to be "a butt mitzvah. A coming out party. The birth of the movement," according to Mr. Praeger's Web Site.
But this event isn't all middle-school jokes. To complement Mr. Praeger's scatological discussion, local comedians and musicians will perform. And while Poop Culture covers no-nonsense topics like the history of the toilet and the "economic and environmental costs of every single flush," Mr. Praeger delves into more philosophical issues as well. Referencing everyone from Freud to Trey Parker and Matt Stone, the author looks at First World bathroom etiquette to uncover the ways that Westerners "view themselves and relate to each other."
If the initial response from critics is any indication, Poop Culture is sure to make a major splash.
Galapagos Art Space, 70 North Sixth Street, Brooklyn, http://www.galapagosartspace.com