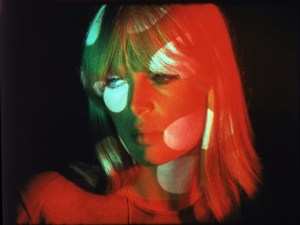 Last week at Christie's, an anonymous bidder picked up Andy Warhol's Green Car Crash (Green Burning Car I) for $71.7 million—more than four times the highest sum previously commanded by a Warhol painting at auction. Whoever the mystery buyer was, he seems to have come down with the latest case of Warhol fever, which broke out earlier this year—the 20th anniversary of the artist's death—with Factory Girl, a throng of new books like Andy Warhol "Giant" Size, and even clothing and jewelry lines inspired by the mop-topped Prince of Pop.
Now it's spread to MoMA. In early June, from the second to the ninth, Warhol's most worshipped film, The Chelsea Girls, will be screened several times as part of To Save and Project—the museum's fifth annual International Festival of Film Preservation. A collaboration among MoMA, the International Federation of Film Archives and major studios and distributors, this year's festival celebrates 50 feature-length and short films that range from Giovanni Pastrone's 1914 silent war-themed drama, Cabiria, to Lionel Rogosin's 1957 whiskey-breathed quasi-documentary On the Bowery.
Co-directed by erstwhile Warhol acolyte and filmmaker Paul Morrissey, The Chelsea Girls isn't shown often—and for good reason. The film is a technological handful, comprised of 12 33-minute reels of 16-millimeter film that are, at varying times, fed through two side-by-side projectors. Copies of the film always travel with dense instructions that outline the projection process in minute detail. "After [reel] #11 ends, turn projector lamp off on #12 but continue sound as exit music," one instruction reads.
Its complicatedness, however, only makes the film more treasured. Josh Siegel, an assistant curator in the film department at MoMA, argued that The Chelsea Girls is every bit as valuable to our collective cultural heritage as "a painting by Picasso." But more than anything else, Mr. Siegel believes that the film "has a freshness today that was true in 1966 …. And because it is screened so rarely, we have a mission to show this work to new generations of filmgoers." (Though beware: One Observer contributor and Warhol fan who screened the film in college described the three-hour-plus experience as "a war of attrition" for viewers.)
"It's like a performance by the projectionist, and it's very avant-garde in that respect," explained Callie Angell, curator of the Andy Warhol Film Project since 1991 and the author of last year's critically acclaimed Andy Warhol Screen Tests. "It's different every time I see it, so I'm fascinated by the interrelationship of the images on the double screen," Ms. Angell continued, "There's absolutely no editing at all …. It's put together without one single splice in it, anywhere."
As the film's title might suggest, its unorthodox plot line is mostly acted out within different rooms at the now-infamous Chelsea Hotel, where a number of Mr. Warhol's fringe-dwelling contemporaries congregated to make art, wax philosophic, have sex and, of course, party. During one particularly memorable scene, Ondine (Robert Olivo), the actor and poet widely known at the time as the Pope of Greenwich Village for his talent of taking confessions in a booth at a downtown coffee shop, fills his veins with speed before slapping a certain Rona Page—a member of a pseudo-Christian cult from Boston, whose titanium piety snaps after meeting the drug-addled heretic. It becomes unquestionably clear that this explosive moment was unscripted when the two bolt out of the frame to a place where Ms. Page's sobbing is audible but unseen by the camera.
The Chelsea Girls is an anthropological artifact too, as it displays a veritable color wheel of subcultural personae; almost every person in the movie was part of the city's thriving avant-garde art world during the 1960's, orbiting around Mr. Warhol and his Factory, where parts of the film were also shot. Various Warhol "superstars" make appearances in The Chelsea Girls. Brigid Berlin recites a monologue while shooting up; Eric Emerson recites another monologue before performing ballet; and the model/musician Nico, who is filmed in black and white, shows up as well with her son, Ari. (Recently resurrected cultural icon Edie Sedgwick was reportedly also in the film at one point, but her sequence was later removed by Mr. Warhol for a reason that remains contentious.)
And let's not forget the Velvet Underground. The Chelsea Girls' soundtrack is in total communion with the images on the screen. The two sensual elements interact in a kind of organic harmony that is, as Mr. Siegel put it, "not arbitrary."
"I think that especially in our age of gossip magazines and a preoccupation with stardom, it's amazing to realize the kind of tragic costs of that dream," Mr. Siegel surmised. "We live in a world of spectacle, in a world of images, and any chance we have to see the world in a new way is a cause for celebration."