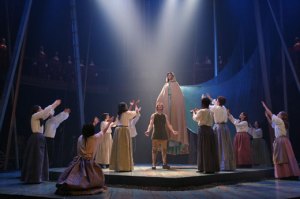 Coram Boy, the play with music that comes to us via acclaim at London's National Theatre, is a wonderful, near-mad folly on Broadway.
Let me say at the outset that, unlike many of my miserable colleagues, I found this rollicking Gothic drama based on Jamila Gavin's historical novel for young adults enchanting from beginning to end. (Like the best children's books, it's also for adults). Nothing about it is unambitious or small. (It took 18 producers to bring it here). Nowadays, you feel fortunate if a Broadway play has four actors, one set and a dog. With its cast of 40 and its 20-strong choir singing George Frideric Handel, of all people, there's never been anything like Coram Boy.
It's the kind of massive undertaking that only a major subsidized theater like the National could even contemplate. Perhaps comparisons with the Royal Shakespeare Company's The Life and Adventures of Nicholas Nickleby (1981 and 1986) are inevitable, particularly as Coram Boy is unapologetically Dickensian. But Nicholas Nickleby belongs to a different era and to a very different Broadway. The notion that parents in search of family entertainment today will take their children to see a lengthy 18th-century British melodrama with music by Handel (as opposed to Hairspray or a Disney musical) is novel and optimistic. But as I see it, we're very lucky to have Coram Boy.
The soul of a traditionally understated, civilized Brit secretly delights in apparently un-British things, and Coram Boy connects to them brilliantly. Hence its core of sentimentality and pleasure in the macabre, its boys' adventures and ungodly, unspeakable violence, its torn families and separated lovers, Shakespearean reconciliations, happy ending, pretty asexual choirboys and jubilant celebration of that honorary British citizen, Handel the German.
Coram boy means "foundling," and Coram's Hospital for Foundlings in London is where Handel's Messiah was performed in the 19th century. The dizzying play resembles an opera in its corkscrew plot twists and staggering narrative developments—but not to worry! After all, Handel's Xerxes falls in love with a plane tree ("Ombra mi fu"), and nobody has ever had any difficulty with that.
The essential spirit of Coram Boy is closer to a rattling good yarn about uncomplicated Good versus Evil. And what a yarn! ("O death, where is thy sting? O grave, where is thy victory?") It's all directed with daring, unrestrained theatricality by Melly Still, who also co-designed the costumes and the spare set with Ti Green. The narrative opens in murky splendor with the sight of an hallucinating backward boy, Meshak, who's in love with an angel. Meshak is the abused son of the villain of the drama, Otis Gardiner, who, under the charitable guise of finding a home for unwanted babies at Coram's Foundling Hospital, kills the tots and extorts hush money from the distraught mothers.
So far, so ghoulish. A parallel story takes us to Gloucester Cathedral, where the 15-year-old aristocrat and heir to a grand estate, Alexander Ashbrook, sings in the church choir and befriends the boisterous working-class innocent, Thomas Ledbury. Alexander yearns to become a composer (and, in time, will be trained by Handel, who makes a witty guest appearance in Act II). When his voice breaks during a song recital at home, his domineering father cruelly orders him to give up any hope of becoming a musician and help run the estate. Alexander flees.
Those two stories will merge and ignite the rich, feverish tales that follow. They include ecstatic visions and wild imaginings, mass graves revealed, the villain hanged, a fiendish white-slave plot foiled, the magical coup de théâtre of an underwater sea rescue, and star-crossed lovers reunited at last (which brings sobs from the audience, to boot).
There's also some 70 glorious minutes of Handel and the Handelesque score composed by Adrian Sutton. The adaptation from Jamila Gavin's novel is by Helen Edmundson. Among several performances I particularly enjoyed were Bill Camp's hissable Otis; Jan Maxwell's more nuanced, odious housekeeper at the Ashbrook estate, Mrs. Lynch (Otis' hidden partner in the adopted-babies scam); and the magnetic actresses playing two young choirboys—Xanthe Elbrick's lordly, decent Alexander and Charlotte Parry's irresistible social misfit, Thomas.
As I say, I don't think there's ever been a Broadway show like Coram Boy. At the curtain call, the 20-member choir even sang "The Hallelujah Chorus" for us. "The Hallelujah Chorus"! On Broadway!! It sure beats the encore of "Dancing Queen" at Mamma Mia!