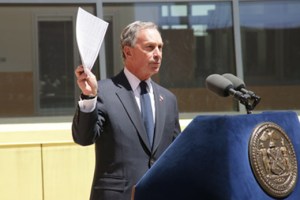 Talk of Michael Bloomberg running for higher office, which started out as the half-serious project of one of his aides, has officially taken on a life of its own.
This week alone, the Mayor was invited to run for President—unexpectedly, he says—on national television by Nebraska Senator Chuck Hagel, who is himself considering a third-party run for the White House in 2008.
He was also the subject of a sort of draft movement, mounted by a momentary alliance of Albany Republicans and the New York Post, to run for Governor of New York State against Eliot Spitzer in 2010.
In both cases, Mr. Bloomberg's suitors had ulterior motives: Mr. Hagel needs the Mayor's money and (maybe) his local popularity to make his insurgent candidacy credible. And State Senate Majority Leader Joe Bruno and the Post—which indulged him with a front-page "Gov Mike!" headline—are using him as a cudgel against their imperious foe, Mr. Spitzer.
But the source of the speculation seems to have become increasingly irrelevant. A story on Tuesday in The Washington Times, citing anonymous sources, said that the Mayor has told associates that he is prepared to spend a billion dollars on a bid for the Presidency.
It hardly even seemed extraordinary.
Mr. Bloomberg, meanwhile, seems at any given moment to be either issuing a ritual denial of the latest rumors or basking in the speculation for all it's worth.
On May 15, as simultaneous translators at a climate-change conference whispered his words in tinted booths in the back of the Essex House Grand Salon in Manhattan, Mr. Bloomberg took to the role of international statesman with relish.
"The first responsibility of any elected leader is to face the hard questions head-on," he said, addressing mayors from around the world who had gathered to discuss global warming. "A boyhood hero of mine, former American President Harry Truman, once said that a leader has to lead, or otherwise he has no business being in government."
After the mayors and their aides had finished eating chicken and cheesecake and listening to Mr. Bloomberg's speech, they awkwardly paraded out to Central Park South for a press conference. Foreign press photographers jostled to get pictures of the Mayor.
"I didn't see Bloomberg! I want to see Bloomberg!" said one photographer in Israeli-accented English, in the course of yelling at a colleague to get out of his shot.
Mr. Bloomberg went on to talk about the folly of having an Iraq policy but not an energy policy, discussed relations between state departments (albeit for diplomats paying congestion-pricing tolls), and blamed America's partisanship for slowing down progress to counter global warming.
"Certainly, in this country, it is partisan politics that has immobilized them," he said evenly. "To say we can't start this for a while, until the next election cycle—we don't have that luxury."