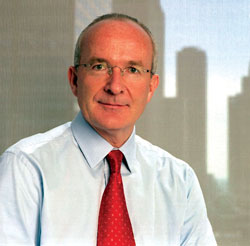 When Paramount Group C.E.O. Albert Behler learned that Deutsche Bank had accepted the real-estate firm's $1.18 billion offer for 60 Wall Street, champagne was passed around and toasts were made inside Paramount's headquarters at 1633 Broadway.
There were plenty of reasons to celebrate. For starters, the landlord acquired the second-biggest office building in its portfolio and increased the company's Manhattan holdings to more than eight million square feet.
Even more, Paramount made history. The landlord's payout of $1.18 billion and $737 per square foot shattered records in both categories for an office tower in lower Manhattan.
"It's a very attractive asset," said Mr. Behler, calling The Observer from Germany. "We believe in downtown, especially in the long term."
In an industry where breaking records is almost a daily affair, there's something more meaningful behind Paramount's buy. The sale is a clear signal that the downtown office market might have finally turned the ever-elusive corner.
"I would say it is the strongest indicator we have seen to prove our recovery since Sept. 11, 2001," said Eric Deutsch, the president of the Alliance for Downtown New York.
That's saying a lot. There have been so many signs of success, with a W Hotel breaking ground on Washington Street, Tiffany & Company opening a store on Wall Street, and Larry Silverstein easily filling up his gleaming tower at 7 World Trade Center.
Yet there's nothing quite like someone putting down more than $1 billion to really prove it.
Mr. Behler said that Deutsche Bank put the building up for sale to a "small group" of landlords, and that Paramount went through a "hard and heavy" negotiation process for 10 days in order to nab it. He declined to comment on the intricacies of that process, or to say which company originally pitched the $1.18 billion, citing a confidentially agreement since the deal is still under contract.
But he emphasized that both Paramount and Deutsche Bank—which signed a 15-year leaseback in the building—each received a good deal.
"After 10 to 15 years, with the rebuilding of Ground Zero, we think it's a good long-term investment," he said. "It's good for us long-term, but it's also good for Deutsche Bank, because they realized a profit."
A "profit" indeed: The company paid $610 million for 60 Wall Street in 2001 to J.P. Morgan, and thus nearly doubled their return with this sale.
When Deutsche Bank bought the building, real-estate insiders likewise thought it would represent a key turning point for the struggling financial district in spring 2001. And, of course, that didn't exactly work—three months after the deal went to contract, the World Trade Center was destroyed and the downtown office market was in shambles.
But the feeling is that lower Manhattan's ascendance is sturdier now, especially with Deutsche Bank doubling on its investment despite a difficult market climate downtown since it bought the tower.
"The investors are confident, and it shows expectation that the market will be there and it will be strong," said Mr. Deutsch.
"It's been a slow comeback," said Mr. Behler, "but we believe in the renaissance of downtown."
To appreciate how much $737 per square foot is, for comparison's sake, take a look at some other recent downtown buys. When 14 Wall Street went to contract in April for $325 million, it went for about $340 per square foot; and when Joseph Chetrit purchased 26 Broadway the same month for $225 million, it sold for about $357 per square foot.
Then again, those buildings aren't in the good condition that 60 Wall Street is—but it's hard to find many downtown buildings that are.
For Paramount, owned by the Otto family in Germany, making record deals is nothing new. In 1998, when Paramount purchased 712 Fifth Avenue, the company paid a then-record $523 per square foot in what was seen as an overly exuberant sale price.
Now that deal looks like a bargain—a word Mr. Behler used to describe 60 Wall Street's value in 10 years. And as he stated, the company believes only in long-term investments.
"We're here to stay," said Mr. Behler. "We're not one of those momentum investors who come and go."