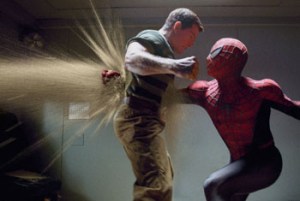 It doesn't exactly make a critic eat his heart out when a movie like Spider-Man 3, despite being panned by them (including our own Rex Reed), breaks all the records in the book.
Biggest opening weekend? Check. Biggest opening, period? Check. Biggest international release? Check.
But let's add some insult to critical injury, please: Can you guess the two top-grossing theaters on the movie's opening-day? L.A.'s gigantic ArcLight and … Sony's Lincoln Square theater. Take that, Alice Tully!
If anything, the poor reviews only appeared to stir up more activity, like a stick poking a wasp nest. The film's earnings in Manhattan boil down to a $152,490 per screen average in New York City, five times the average in the rest of the country. Manhattanites added an astounding $1,829,875 to the movie's total cume.
"There'll be a fourth and a fifth and sixth and a seventh," Sony Pictures Entertainment co-chair Amy Pascal told Daily Variety. "As many stories as Peter Parker has to tell, we'll do sequels." Hooray!
Psst …Spider-Man 3 was not the only movie to opening this weekend. There was Manhattan's basement-dweller, Lucky You, a romantic comedy starring Eric Bana and Drew Barrymore. Although it played in eight theaters, it still did not win the counter-programming sweepstakes in New York City. Sarah Polley's Away From Her, the Keri Russell vehicle Waitress and star-studded Paris Je T'Aime all made more money playing in two theaters, each with a healthy per screen average of over $18,000.
I guess they got some good reviews.