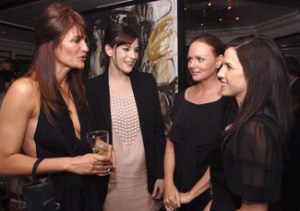 "I just want to see it all on you!" the designer Stella McCartney said excitedly as she picked through a rack of her wares, finding a delicate, sheer pink cardigan sweater ($935) for a client at her trunk show, which was co-hosted by the actress Liv Tyler, the model Helena Christensen and Jerry Seinfeld's wife Jessica at Bergdorf Goodman on Thursday, May 3.
"I'm not allowed to go shopping," Ms. McCartney, the daughter of Paul McCartney and the late Linda Eastman, said to a few guests. "Not that I need to." Hello, understatement! "My mum hated shopping. Occasionally we'd go shopping, but she'd always have a headache after a day of shopping."
Ms. McCartney was busy enjoining friends to join her at the luxurious department store's private seventh-floor parlor, which had been tricked out with foosball and Guinness for the occasion. "Just get your arse down here and have a beer," she crooned into her cell phone. Adding to the incongruously down-market atmosphere, Ms. Tyler had talked her husband, Royston Langdon, into having his band Arckid perform. "This is going to be so weird," scoffed his brother and bandmate, Christian Langdon, as he arrived. "So fucking weird."
Later, he was observed enjoying vegetarian hors d'oeuvres and Champagne between songs. "Those are some very nice shepherd's pies!" Royston remarked. "And cheese on sticks!" blurted his brother. "It's all free!" No such thing, honey, no such thing ….
Ms. Seinfeld, in a belted black-lace creation, was standing by candlelit windows overlooking the Pulitzer Fountain. "Really, everything is so easy to wear—she's really cut the clothing for normal people," she said of Ms. McCartney's creations. But were these normal people? "Not here! But people who buy her clothing at the stores." Ah.
Model and tsunami survivor Petra Nemcova, meanwhile, was wearing a vintage black skirt suit with a red Valentino bag. "The great thing about her," she said regarding the woman of the hour, "is that she doesn't kill animals."
Ms. Tyler went further. "Stella's got such a good understanding of style. There's something so cool and hip about her—and I don't mean that in like a snooty way at all," she told The Transom. "She's just like a normal mom. I guess I look to her for that inspiration." (Ms. Tyler's parents, rock 'n' roll muse Bebe Buell and Aerosmith lead singer Steven Tyler, were hardly conventional.)
And what do the two young mothers talk about over play dates with Ms. Tyler's son Milo, 2, and Ms. McCartney's tots Miller, 2, and Bailey, 5 months? Not their rock-star lineage, that's for sure. "We don't talk about that ever," Ms. Tyler said wryly. "We never talk about that. We just talk about normal girl things. Mom things."