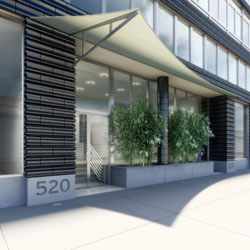 Just when you thought the past might be vanishing a little too quickly, terra cotta is coming back in new ways, making New York warmer, deeper, and not so flat and icy with glass.
Midnight-blue glazed terra cotta, all full of inky depth, will surround the lower portion of architect Annabelle Selldorf's 520 West Chelsea condominium building on 19th Street. At Ms. Selldorf's 200 11th Avenue, where people will drive their cars into their apartments, cast gunmetal glazed terra cotta is to cover the base, making curves and warmth in a cold, sharp world.
The upcoming Museum of Arts and Design (M.A.D.) building—the former "Lollipop Building" at 2 Columbus Circle—will reportedly be faced with lustrous, iridescent terra cotta along with the glass, though the building is enshrouded now and no one is quite sure what is going on underneath. Terra cotta hasn't been in fashion since the 1930's, when the Great Depression stopped construction and modernism subsequently brought in more machine-age textures.
And the days of flurries of terra-cotta leaves and grapes are probably gone: no more ruffled flounces, no more cupcake look or theatrical flourishes. Terra cotta always had a stagy quality, partly because one sees it applied in pieces since it is baked in parts, in kilns. So there is always the sense that terra cotta is pretending to be a big surface. There is the charm of the clay, the touch of the hand pulling it out of the mold. Look inside old pieces and one sees thumbprints.
Today, you wouldn't recognize it. Terra cotta looks entirely modern, its cheeks pulled in, as if it has been going to a gym, all flat, perfect little blocks or rectangles. These are shapes comfortable to the modern age, a celebration of the uncluttered yet ornamental in its textural effect. For no matter how modern we all are, we will doodle a bit.
Sara Lopergolo, a partner at Ms. Selldorf's firm, said that they chose terra cotta not only because a lot of the city "was built with that material on the exterior," but because "the material, the color has a depth you just don't see any more." And, she added, "it picks up light once it's curved …. All the architects are excited the way the terra-cotta glaze reflects light, and especially that of glass around it."
Terra cotta means "burnt earth"; it is essentially fired clay. There is something volcanic in the way the shapes are stopped in motion, a bit like photography, that second in existence held right there, a dramatic hold-your-breath moment, forever stopped in motion, lava about to overwhelm—then it's held back by fire and cooked. Not at all like stone, which looks exactly what it sounds like, a more graveyard sort of thing.
Terra cotta has its own organization, the Friends of Terra Cotta. Do they sit about staring at pediments with terra-cotta seashells in each other's living rooms? "Polishing terra cotta with our shirtsleeves?" said Simeon Bankoff, executive director of the Historic Districts Council. "No. We get newsletters. We have chapters. We do not 'take it for granite.'" Mr. Bankoff was referring to the second half of the title of one of Friends president Susan Tunick's many terra-cotta books. Ms. Tunick quotes a 1911 New York Times article describing the city's skyline as "more than half architectural terra cotta."