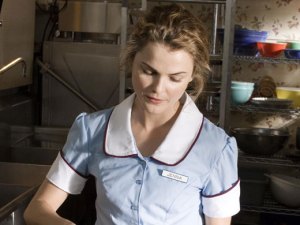 Manhattanites apparently love Spider-Man with the same insane intensity as the rest of America: Spider-Man 3 topped both the U.S. and Manhattan box office once again, raking in $60 M. over the weekend, while 28 Weeks Later, the follow-up to the zombie sleeper 28 Days Later, angled for the bloodthirsty "R" crowd and made away with $10 M.
Behind Spider-Man 3, the gory horror film had the strongest per screen average in the city, a very healthy $20,718. With Spidey finally facing some stiff competition next weekend with Pirates of the Caribbean: At World's End (and Shrek 3 waiting in the wings), look for 28 Weeks Later to build off its strong opening.
But in the city (if nowhere else), Keri Russell's career resurrection continued apace. Manhattan theater-goers—who appear to have a soft spot for the former Felicity star (and ersatz "University of New York" student)— ate her up this weekend in Waitress, where she plays a down-on-her-luck pie maker with a cute—if not entirely believable—southern accent and more lady troubles than she had at UNY! Playing at seven theaters in Manhattan, the film averaged a respectable $11,549 per theater, cracking the top three in total box office here. (It has yet to crack the top 15 films in the country.) Expect Fox Searchlight to continue expanding it into more theaters. They're taking their time with this one.
The same cannot be said for Jane Fonda and Lindsay Lohan's Georgia Rule, whose wide release was met with lukewarm box office. It finished behind Waitress in New York City, despite playing in two more theaters. Perhaps asking Felicity Huffman to balance out both Ms. Fonda and Ms. Lohan (and the hunky, yet clueless Dermot Mulroney) was too tall an order.
And this week's straight-to-Netflix award goes to The Ex. The romantic comedy starring Justin Bateman, Zach Braff and Amanda Peet played on 6 screens in Manhattan, but could not out gross Away From Her or Paris Je T'aime both of which only played on two. There's hope, yet!