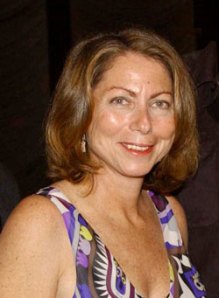 New York Times managing editor Jill Abramson checked out of Bellevue Hospital on May 29, three weeks after being hit by a truck at the intersection of Seventh Avenue and 44th Street.
Ms. Abramson's absence left executive editor Bill Keller to address staffers solo on May 24 in his semi-annual "Throw Stuff at Bill" session.
"She is reading the paper with a sharp eye," Mr. Keller told the crowd in the ninth-floor auditorium on West 43rd Street.
Ms. Abramson suffered a broken femur and fractured hip in the May 8 accident.
So what does a managing editor of The New York Times get for hospital reading?
In an e-mail from Bellevue, Ms. Abramson told The Observer that she was getting The Times, The Wall Street Journal and the New York Post daily in her room. Since getting out of intensive care, she wrote, she has also been vetting stories and taking part in conference calls with editors.
"Bill has asked me to lead an investigative project for the next month, which I'll mainly do from home," Ms. Abramson wrote. "It involves a group of domestic and foreign reporters, but I obviously can't tell you what it is."
Mr. Keller accompanied Ms. Abramson's husband, Henry Griggs, a consultant, to the emergency room shortly after the accident.
Through the following weeks, The Times' top editor was running a sort-of internal blog about Ms. Abramson's progress, sending frequent e-mail updates to the newsroom: how Ms. Abramson kept her humor through a "morphine haze" (May 8); her "glowing" surgery results (May 9); and the fact that she had graded the students' final papers for an advanced journalism seminar she'd been teaching at Yale (May 16).
A lawsuit filed on May 16 in Manhattan Supreme Court makes clear just what a brave face those dispatches put on Ms. Abramson's situation.
Ms. Abramson filed suit against the truck driver and two companies, MTLR Corp. and West Side Foods Inc., in Manhattan Supreme Court, citing "severe and serious personal injuries to mind and body" and "great physical pain and mental anguish."
(Ms. Abramson and her attorney, Michael Steven Smith, declined to comment on the lawsuit.)
Mr. Griggs is also a plaintiff in the suit, citing a loss of "services, earnings, consortium and society" of his spouse.
In her e-mail to The Observer, Ms. Abramson wrote that she faces "an intensive course of physical therapy to re-learn to walk."
She said she hopes to return to the newsroom this summer—or rather to go to the new newsroom, after the paper relocates to the Times Tower in her absence.
"The Times is my second family and second home," Ms. Abramson wrote, "and I am already very homesick."