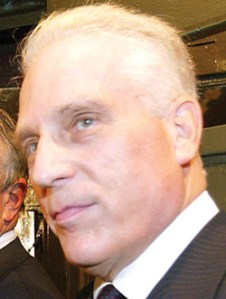 For a little while, the only thing standing between Elliot (Lee) Sander and the chairmanship of the Metropolitan Transportation Authority was Peter Kalikow.
Then Governor Eliot Spitzer stepped in between.
When Mr. Sander was appointed executive director of the M.T.A. back in December, Mr. Spitzer threw in the title of chief executive for good measure. Mr. Sander, a former city transportation commissioner who worked tirelessly as a policy advisor for the Democratic Governor's campaign, was named next in line for the top, if recently weakened, transit position.
The only problem was Mr. Kalikow, the white-haired real-estate scion who never seemed comfortable in the limelight and yet refused to relinquish it. He was one of those George Pataki contributor-appointees that Mr. Spitzer loved to excoriate—no, on second thought, he was the Pataki contributor-appointee that Mr. Spitzer most loved to excoriate.
It was the M.T.A., after all, that Mr. Spitzer called "the most mismanaged, least competent one out there"—even though the transit system was poised to undergo a historic expansion and was, given its age, looking better than it had in a long time.
Mr. Kalikow vowed to hang on, at first for a year or more, then until funding came through for major capital projects (which will likely take place in October), and, finally, until this spring.
It finally happened, at a place—if not exactly a time—of Mr. Kalikow's choosing. The May 7 press conference where he announced his resignation took place at Club 101, a private club for executives on the ground floor of a building that Mr. Kalikow's real-estate firm built, 101 Park Avenue.
Wearing his trademark pinstripes, Mr. Kalikow called it an "emotional day" and looked choked up.
"This was a tough job," he told the dozen or so reporters. "I could actually take my jacket off and show you my bruises to prove it, some of them more painful than others."
It's hard to figure out why Mr. Kalikow was reluctant to leave all of that behind, except that this man, who got around in limousines and Ferraris, had worked up quite a passion for public transportation—even if he didn't use it. His six-year tenure, the second-longest of any M.T.A. chairman, will perhaps be most remembered for an odd little strike that seemed to accomplish nothing for anybody, two sets of books, and a story that Mr. Kalikow told about his grandfather—who, as a boy in Russia in the middle of a snowstorm, went to the bathroom in his pants, only to regret it once the cold set in.
"We could pee in our pants now, roll the fare back, and everyone will feel great," he said in front of the West Side Chamber of Commerce in 2003. "But we're going to face it again next year."
But also under his watch, the M.T.A. secured enough funds to get started on the Second Avenue Subway and a Long Island Rail Road tunnel to Grand Central Station; broke ground on a new transit center at Fulton Street; and put 4,400 new buses, subway cars and commuter rail cars into service.
Mr. Sander will not be taking over Mr. Kalikow's title, even though he has taken on many of the chairman's duties. When Mr. Sander was appointed chief executive back in December, Mr. Spitzer's spokeswoman, Christine Anderson, told The Observer in an e-mail, "It is believed that he will take over when [Mr.] Kalikow steps down."
At the time, the Governor-elect seemed willing, even eager, to try to amend a fairly new law—in place for less than a year—that, in deference to the federal Sarbanes-Oxley legislation and the clamor for accountable leadership, wrested executive powers from the M.T.A. chairman and gave them to the executive director instead.
But the idea of changing that law and reviving the model of leadership exemplified by Richard Ravitch, a near-legendary up-to-the-elbows type of "executive chairman" from the early 1980's, proved daunting and, perhaps, completely unnecessary.
"As we've gotten operational experience, and the new team has taken over at the M.T.A.," Ms. Anderson told The Observer on the afternoon of May 7, "there was a strong sense that the set-up was actually for the better, that it was better to have someone as chairman to provide the oversight necessary. We got in and realized this was a positive step, and chose to move forward and not try for changes."
For one, trying for the changes would have required tussling with the author of the law, Assemblyman Richard Brodsky, who, while a Democrat, has proved time and again his willingness to criticize the Governor. (In an interview, however, Mr. Brodsky said he was still undecided on the chairman/chief executive distinction.)