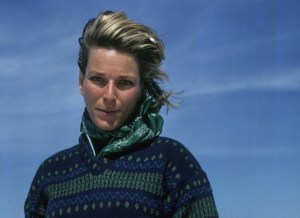 Clothes from the closet of the late socialite Nan Kempner were undoubtedly the biggest draw of the night at the May 9 preview of the 35th annual POSH sale at Lighthouse International, the foundation for the vision-impaired.
Kim Cattrall, who has served as Celebrity Chair of the event for the past three years (and donated many items from … you know … THAT show) bought two handbags, one an Yves Saint Laurent previously owned by Ms. Kempner.
"I spent two weeks with Nan when I was filming Bonfire of the Vanities," she said, combing the racks and proudly declaring: "I'm back to a size 6!"
But the consensus among even the most X-ray-eyed shoppers was that hardly anyone was thin enough to fit into Ms. Kempner's outfits, which were hung on hangers festooned with "NK" tags.
One exception was Norris Mailer, wife of writer Norman, who was disappointed that one of Ms. Kempner's belts was too big for her tiny waist, and settled for a chocolate-brown leather jacket. Her daughter-in-law, musician Sasha Lazard (wife of Michael Mailer), was not so lucky.
"I'm not a size two," she said.
One person Hoovering up on Ms. Kempner's collection—appropriately enough , since much of it had previously been displayed at the Metropolitan Museum's Costume Institute—was Hamish Bowles, the European editor-at-large of Vogue.
"I'm buying for my private collection, and I came for Nan's clothes," he said, after stripping a black velvet gown off a mannequin and tossing it to his assistant. "She was such a fashion icon," he gushed.
His favorite Kempner purchase of the evening: a straw bowler hat.
When Joan Rivers arrived, she made a beeline for a tan suede John Galliano jacket with embroidered flowers. "I donated this!" she said proudly.
"And the only reason they got it is because I gained five pounds."
The Transom could relate, as it failed to squeeze into a navy Ungaro suit. Amazingly, however, a Nan Kempner black jacket by the same designer fit beautifully.
The Transom jealously guarded its treasure, as everyone knows that the simple act of shopping for charity can quickly devolve into a full-blown couture catfight.
"I almost punched out Pat Buckley at a Seventh on Sale," Ms. Rivers said.