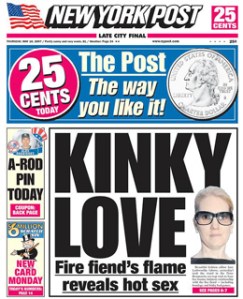 So the New York Post has now returned to 25 cents, after 10 days of selling for twice the price at newsstands.
And in an article in today's New York Times, Post editor Col Allan referred to the abrupt price drop as "part of a well-planned strategy."
Strange.
On May 1, Mr. Allan was speaking about a quite different strategy in a phone interview with The Observer.
Mr. Allan was still beaming about the Post's circulation numbers, which were released the previous day. Bucking the industry trend—yet again—the Post increased circulation, while continuing to beat the rival Daily News.
"Lachlan Murdoch said then that we would increase the price of the paper when we have passed the Daily News," said Mr. Allan, of the increase.
"We have done that for two periods."
That strategy had been discussed before—most notably by the Murdoch scion in a 2001 BusinessWeek feature. (That was still years before flying the Rupe's coop back to Australia).
From the BusinessWeek article:
Lachlan Murdoch refuses to disclose the Post's annual loss—pegged by outsiders at $15 million to $30 million—but acknowledges that it widened when the weekday cover price was halved, to 25 cents, in 2000. It's all part of the plan, says Murdoch, who intends to restore the 50 cents cover price if and when the Post passes the Daily News in circulation. 'We love the Post, but it's not a hobby,' he says. 'We very much care that it make money one day, and that it become as great a business as it is a newspaper.'
So what happened to the Lachlan Murdoch strategy that seemed to finally take effect last week?
A spokesperson for Mr. Allan did not immediately return calls or email seeking comment.
If there's any response, we'll update later.