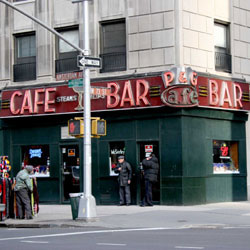 Proprietors of the venerable P&G bar always wanted to provide open-air seating for patrons, preferably in the form of a sidewalk café.
Tearing out the walls of the Upper West Side watering hole wasn't exactly what they had in mind.
But that's what the embattled tavern faces this summer—a unique and unexpected alfresco experience!—as its landlord launches a massive storefront-renovation project.
Or, as bartender Holiday Haber described it, "their new way of chasing us the hell out of here."
Ms. Haber is the wife of P&G manager Steve Chahalis, whose family has owned and operated the saloon with the big neon sign at the corner of Amsterdam Avenue and 73rd Street since 1942.
The clan has refused to uproot from its longstanding libation location, despite escalating pressure from the landlord.
In recent weeks, the bar has received multiple written warnings about forthcoming "storefront upgrades" at the site, which, according to a city permit, involve ripping out existing walls and installing new wood panels, windows and doors.
Though "all efforts shall be made to minimize disruption to your business," according to an April letter from project architect David Acheson, the construction work will also "require protections to be performed inside the store."
"How can we conduct business with no walls?" asked Ms. Haber. "You certainly can't serve drinks with construction going on."
Talk about getting hammered.
Walls or no walls, the Chahalis family has vowed to carry on with its beverage service for as long as its patrons can stand the clamor. "I can see it now," P&G regular Donald C. Riley joked. "Sam Adams in my hand while I'm covered in dust and debris."
Named after the bar's original managers, Mr. Chahalis' granduncle Peter and grandfather George, the P&G occupies one of six ground-level retail spaces in a landmarked Herman M. Sohn–designed apartment building, constructed in 1925, just off Verdi Square. Mr. Chahalis, 44, presently manages the business alongside his father, Tom.
Over its six-plus decades in the neighborhood, the family-run enterprise has remained fiercely resistant to change, with few exceptions: Female servers such as Ms. Haber are a relatively new phenomenon behind the bar, and the place didn't accept credit cards until January 2006.
You won't find a single flat-screen in the joint, just two old boxy sets with grainy reception and a limited channel lineup. Nor is there much in the way of food, just the occasional burgers and grilled cheese. Drink prices are the same, whether it's happy hour or not. Yet the steady, no-frills, old-fashioned vibe draws a devout clientele.
"This place is like no other bar in the city—it is my church," said West 72nd Street resident Mark Messina, 33. "This piece of wood," he added, knocking on the old bar, "is where the most important decisions of my life are made."
The Chahalis family now faces some important decisions too, particularly how to adapt in the face of escalating real-estate pressures without sacrificing tradition.