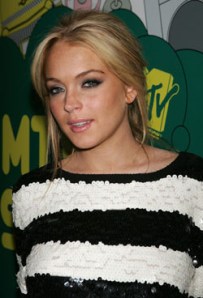 Late in the afternoon on Monday, May 14, Lindsay Lohan showed up at a complimentary, temporary shopping boutique that had been erected by Lucky magazine for no apparent reason in the Ritz Carlton hotel on Central Park South.
"I love shopping. I love fashion. I mean, I live for it!" gushed the 20-year-old actress, who picked up several large bags of gratis goodies, including a digital-camera storage device, a few frocks and seven pairs of sunglasses. "I was here two years ago, and everyone was really cool," said Ms. Lohan, who drank a can of sugar-free Red Bull before flinging open a dressing-room curtain, exposing her black demi-cup brassiere to about a dozen startled onlookers. (One of the organizers behind the event, who had spoken with Ms. Lohan at some length, said that "Lindsay was probably still recovering" from a trip to the Bahamas last weekend.)
Sporting blue-jean shorts, a lacy blouse beneath a white leather jacket and a pair of aviator shades, Ms. Lohan summarized her sense of style to The Transom. "Eclectic, ever-changing, evolving," she said, fidgeting a bit as she glanced over her shoulder at a row of silver trays covered with little gourmet snacks.
Nearby, Kelsey Grammer, in town for the networks' upfronts week to promote his new Fox show, Back to You, was examining a row of free shoes with his wife, Camille. "It's basically the story of a 50-year-old man who doesn't want to grow up and a woman who is a grown-up, and I think that's where the conflict comes out," said Mr. Grammer, who is 52 (Camille is 38) and acknowledged inspiring the main character. "It's a good coming-of-age story about a guy who goes kicking and screaming into adulthood. I mean, it's a little late for him, frankly, but …. "
What else was Mr. Grammer doing while in New York? "We're producing a couple of shows and pressin' a little flesh and saying hello to people and making sure they know you're still in the business," he said. "That's all we ever do here! You remind people that you're still busy."