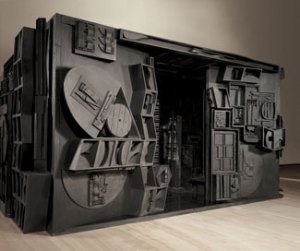 Upon opening the catalog for The Sculpture of Louise Nevelson: Constructing a Legend, an exhibition at the Jewish Museum, you're immediately confronted with a photo of the artist in early middle age, her features retouched to emphasize the lines in her face. She looks to the viewer unsmiling and with unflinching self-possession.
Five more portraits follow in chronological order, bearing witness to Nevelson's transformation from working artist, dressed in a white wool sweater and cap, to a creature with (to put it mildly) a distinct sense of fashion. In the last photograph, Robert Mapplethorpe's portrait of the 87-year-old Nevelson, she's as haughty and garish as Norma Desmond in Sunset Boulevard.
Unlike Gloria Swanson's faded-movie-queen character, Nevelson (1899-1988) was acutely self-aware. She knew that cultivating an image, however contrived or flamboyant, would earn her recognition. Her regal bearing, bandanas, dramatic gestures and spidery false eyelashes created an identifiable persona: the Pharaonic Grande Dame of Sculpture. Nevelson was, in her own way, as P.R.-savvy as Salvador Dalí or Liberace.
She wasn't the first artist to mythologize a life, but her flair for it is indisputable. The playwright Edward Albee admired Nevelson's cagey relationship with fact. Arnold Glimcher, her dealer and confidante, described her life as "an intricate pattern of fantasy synthesized with reality."
"My life had a blueprint from the beginning," Nevelson declared. " … I was only following [it]." This oft-stated belief in artistic predetermination did not come without challenges. After a disillusioning foray in psychoanalysis, Nevelson admitted to the difficulties of "self-fashioning": "Creation is not a performing glory on the outside, it's a painful, difficult search within."
Biography, however fascinating or manufactured, can illuminate aspects of an artist's accomplishment. Still, it shouldn't serve as a crutch or a springboard. Brooke Kamin Rapaport, guest curator for the Jewish Museum's exhibition, seeks to place Nevelson the "outsized presence" on an even keel with Nevelson the artist, but the show she's organized pretty much sticks to sculptural fact. It's a quick and surprisingly thorough overview.
Nevelson, at least as seen here, never wavered. The work begins at Point A and pushes forward with steady assurance. Her fascination with archetypes—with the primitivism without which the art of mid-century Manhattan is unimaginable—endures until the end. The totem became the literal building block of Nevelson's long career.
Picasso's influence was essential. Nevelson wondered what her sculpture would be without it: "Suppose I had made these without Picasso. No one would look at them. They wouldn't have any meaning."
Yet Nevelson isn't quite the Cubist—her sculpture is more indebted to Dada and its cousin Surrealism, really. Her discovery of non-art materials as a viable means of artistic expression was a significant turning point. And the work's otherworldly vibe taps into the slippery currents of the unconscious. She also owes her architectural bent to Constructivism, and her monolithic scale and pressing ambitions to Abstract Expressionism. Still, these modernist influences glance decisively off Nevelson's work without quite sticking, a mercurial achievement that was perhaps a source of pride to her.