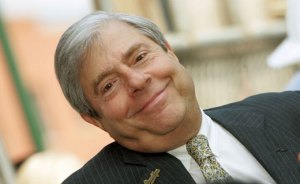 On Monday, May 21, Brooklyn Borough President and Atlantic Yards super-fan Marty Markowitz replaced nine members of Community Board 6.
While on its face the move seemed fairly routine, Mr. Markowitz and his allies, including City Councilman Bill de Blasio, purged the board members apparently because of their steadfast opposition to the Atlantic Yards project in central Brooklyn.
The Purge was not as deep as expected, however.
One elected official told The Observer prior to the announcement that as many as half of the 50 board members were in jeopardy of not being reappointed. That means he left many Atlantic Yards opponents on the board, albeit with the eerie feeling that they might be next.
Among those members dismissed were former board chairman Jerry Armer, who last year issued the board's strongly worded rejection of the proposed housing-and-arena complex at Atlantic and Flatbush avenues.
"In its current form we cannot support this project," Mr. Armer wrote in a September letter to the Empire State Development Corporation. "We cannot possibly support the current project with the knowledge that we would be causing irreparable harm to our own communities."
Another member whose membership was not renewed was Madelaine Murphy, who was described by The Brooklyn Papers recently as being a "vocal critic of Atlantic Yards."
Mr. Markowitz, on the other hand, has been a proponent of the development since the beginning. "As many of you know, I believe Atlantic Yards is the right project at the right time in the right place for this borough and this city," he said on his Web site.
The Observer tried to reach Mr. Markowitz before the list of unseated community-board members was made public. His press secretary, however, wouldn't reveal his whereabouts—perhaps for good reason. On Friday, the New York Post reported that Mr. Markowitz was returning from a six-day cruise aboard the Queen Mary 2.
He received the expenses-paid voyage on the luxury cruise liner—which, not incidentally, docks in Red Hook—in exchange for delivering a trio of speeches about Brooklyn to the ship's passengers. (Lucky them.)
Politics is not a simple game, however, and it should be noted that Mr. Markowitz appointed Brad Lander, the director of the Pratt Center for Community Development and a critic of the Atlantic Yards project, to Board 6.
While Mr. Lander told The Observer that he isn't a "die-hard" opponent of the plan, he does have his reservations.
"In its current form, I consider myself in a very highly ambivalent position," he said on Friday. "I believe that the project could've been—and maybe still could be—modified to a place where I could support it, yet still be recognizable."
Mr. Lander's appointment came at Mr. de Blasio's recommendation and undoubtedly had much to do with his reputation as an affordable-housing advocate. Community Board 6 represents a number of the neighborhoods that surround the Atlantic Yards site, including Park Slope, Boerum Hill, Cobble Hill and Red Hook. It will soon undertake a rezoning of the Gowanus neighborhood, which, prospectively, could include affordable housing.