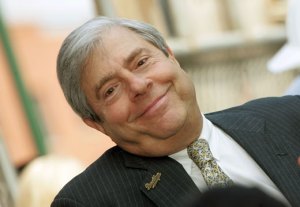 A number of community board members in Brooklyn's Brownstone Belt who voted against Atlantic Yards will not be reappointed next week, according to officials involved with the process.

Brooklyn Borough President Marty Markowitz, an early and ardent supporter of the housing-and-arena complex at Atlantic and Flatbush avenues, is expected to replace several Community Board 6 members when he makes appointments next week. Community Board 6 includes Park Slope, Boerum Hill, Cobble Hill and Red Hook and last year issued a strongly worded rejection of the project proposed by private developer Forest City Ratner.

"We would like to remain optimistic that we can contribute to changes in the current plan which would accomplish the laudable goals of the project concepts. But in its current form we cannot support this project," wrote then-board Chairman Jerry Armer in a Sept. 29, 2006, letter (PDF) to the Empire State Development Corporation, the government sponsor of the project. "We cannot possibly support the current project with the knowledge that we would be causing irreparable harm to our own communities."

 

The rejection, however, was only advisory, and the project is moving along (well, sort of), without the benefit of the community board's support.

The community board has 50 members who serve two-year terms, about half of which are up for reappointment this year. One elected official who has had conversations with Mr. Markowitz and his staff said that as many as half of the board members may not be reappointed, largely because of their opposition to Atlantic Yards. It was unclear whether the official meant half of the entire board or half of those slots that will be filled this year. In any case, we are talking about 12 to 25 people.

About half of the half are nominated by the district's City Council members, Sara Gonzalez, David Yassky and Bill de Blasio, and it appears that the community board shuffle may be as much due to their recommendations as to Mr. Markowitz's decisions.

 

Mr. DeBlasio, for example, told The Observer that he had recommended to Mr. Markowitz that one member he had previously nominated not be reappointed in part to keep the board fresh. But he also said that he sees a vote against Atlantic Yards as a vote against affordable housing.

 

"I want the folks I nominate to care about the things that I care about," Mr. DeBlasio told The Observer. "I ran originally in a six- way field and one of the things I talked a lot about was affordable housing. This was one of my core themes. I think it's my job to maximize support for the things that got me elected. I think it's any elected official's right."

 

Mr. Markowitz's office would not comment, saying that decisions on appointments were not final and would not be made public until next week.