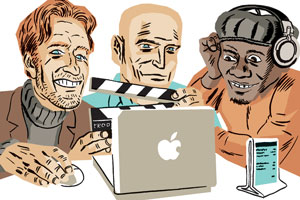 Bathtub filmmakers in New York can score face-time and pointers from Tribeca-bound Hollywood brass—gratis—through Sunday, May 6. Having hosted discussions with directors like Fargo's Joel and Ethan Coen and American Psycho's Mary Harron, the "Filmmaker Talks" workshops at the Apple Store Soho, presented by Apple and indieWIRE, offer interactive access that's unique to the Digital Age.
Last Saturday, on the second day of the series, Julie Delpy, the French-born indie star, trekked to the Kubrickian Prince Street retailer. The 37-year-old blond actress slipped almost unnoticed through a throng of visitors poking at iPods and PowerBooks. Upstairs, however, the gadgets played second fiddle for a packed crowd of cinéastes waiting to engage a flesh-and-blood industry insider.
Ms. Delpy, unassuming in a lacy white blouse, jeans and well-worn sneakers, was in town with two submissions at this year's Tribeca Film Festival, one of which, 2 Days in Paris, she starred in, directed, wrote, scored, produced and edited. "You have to get all the right elements around you; you're the captain of the ship," Ms. Delpy said of creating her new film—a Woody-Allen–esque romantic comedy about a bookish Manhattanite (Ms. Delpy) who brings a neurotic boyfriend (Adam Goldberg) to meet her parents in the French capital. And though Ms. Delpy indulged a few aspiring auteurs' technical questions about cameras and budgets, she wandered into guileless quirkydom, too. "Being creative comes with a price tag; there's another side that's a little darker," Ms. Delpy said, before joking that she surrounds herself with a team of doctors when filming.
A number of upcoming workshops promise to be every bit as captivating as Ms. Delpy's. On Thursday, May 3, the actor, filmmaker and erstwhile heartthrob Matthew Modine (Full Metal Jacket, And the Band Played On) will follow suit by screening four shorts he recently created. On the following day, acclaimed director Marc Forster (Monster's Ball, Stranger Than Fiction, Finding Neverland) will turn up to discuss the considerable financial and cultural impact of his past projects. (Mr. Forster is currently adapting the wildly successful Khaled Hosseini book The Kite Runner for the screen, so the audience will might hope to hear a few insights into that production as well.) And finally, an appearance by the artist DJ Spooky (Paul D. Miller) will conclude the series. Mr. Spooky, according to Apple, will speak about "his boundary defying work, Rebirth of a Nation, in which he deconstructs and remixes D.W. Griffith's controversial 1915 silent film, The Birth of a Nation."
Apple Store Soho, 103 Prince Street, http://www.apple.com