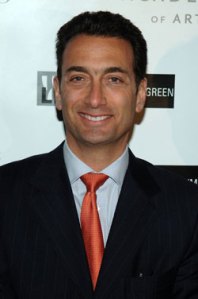 The World Jewish Congress, the influential Jewish organization headed by billionaire Edgar Bronfman Sr., has been on the brink of self-destruction for several years. Since 2004, when allegations of financial mismanagement by one of the organization's most venerable leaders sparked an investigation by the New York Attorney General, the organization has been plagued by internal squabbles, power plays, and secession threats.
Now, just as the organization's steering committee meets today to discuss the organization's future leadership, an explosive memo outlining plans for Mr. Bronfman's second son Matthew to take control has surfaced, promising yet another episode of in-fighting and scandal.
The memo, a copy of which was obtained by the Observer and which was written about in the Jerusalem Post on Friday, was written by Stephen Herbits, the Congress's secretary general and therefore a supposedly impartial player in the organization. However, Mr. Herbits is also a longtime advisor to Edgar Bronfman Sr., a trusted deputy with an unforgiving reputation who worked for him at the Seagram Company. He took a break from Bronfman-duty to serve as an assistant to Donald Rumsfeld during his first term as secretary of defense – a position in which he further burnished his reputation as a hard-charging "fixer" – but returned to Edgar Sr.'s side in 2004. His ostensible role was to bring the World Jewish Congress back to a place of transparent, good-governance, but as the memo makes clear, at least part of his energy during the last few months has been devoted to maneuvering Bronfman heir Matthew to the top of the organization.
Mr. Bronfman's potential rivals for the chairmanship of the WJC include cosmetics billionaire Ron Lauder and Mendel Kaplan, a South African steel magnate.
"There is no doubt in my mind, drawing on all my various backgrounds, that you have what it takes to be a great leader of the Jewish people," Mr. Herbits wrote in the November 16, 2006 memo to Matthew, who is 47. "As with your father, you will get better and better over time. But it will take some time, some practice, and some greater devotion in the early years to meeting preparation and policy development. This goes to time availability, of course; but also a willingness to see out experts, listen, learn and incorporate. All easily doable, but nonetheless required."
Mr. Herbits did not immediately return a call for comment, nor did another WJC official, Pinchas Shapiro.
The memo is essentially a strategy document for dealing with one of the most vocal opponents of Matthew's presidential bid, a French-Tunisian leader of the European Jewish community named Pierre Besnainou. It opens by recounting some of Mr. Besnainou's stated reasons for opposing the Bronfman candidacy – "He believes that the image of 'dynasty' is not appropriate for such an organization," Mr. Herbits writes – but then quickly proceeds to characterize <le probleme Besnainou> in unflattering terms.

"He is French. Don't discount this. He cannot be trusted," Mr. Herbits advised.
Also: "He is Tunisian. Do not discount this either. He works like an Arab."
The memo makes it sensationally clear what assets the Bronfmans would have at their disposal in their mini-campaign for the WJC leadership: money, connections and of course Mr. Herbits would all be deployed to assure Matthew the presidency.
In one section of the document, Mr. Herbits quite bluntly suggests "an infusion of cash – say $5 million" from Matthew's father, uncle Charles Bronfman, siblings and friends to serve as a "'transition vote of confidence'" in the heir. "You would, of course, have to make a substantial gift yourself," he reminds the candidate.
In another section, he assures Matthew that, despite his opponent Pierre Besnainou's apparent friendship with Israeli statesman Shimon Peres, he will be able to count on the Israeli leader's support, thanks once again to "Charles and Edgar" and their long history with Peres. And in a clear nod to his Pentagon past, Mr. Herbits even outlines a strategy for fending off Besnainou titled, "Engage, fight and win" – a plan that includes using Edgar to "call in some 'chits'" and "being sure enough of the results to avoid an election."
Beyond the section on dealing with Mr. Besnainou, Mr. Herbits also dedicates a full paragraph to outlining how Matthew can deal with "the Liebler factor" – a reference to Isi Liebler, a longtime Bronfman nemesis and the man whose allegations of corruption sent the WJC into its three-year downward spiral.
Mr. Herbits dedicates five paragraphs, headlined "Singer's role," to dealing with Israel Singer, the fallen former leader of the World Jewish Congress who served as Edgar Sr.'s consigliere until the elder Bronfman fired him in March. (Singer was at the center of the Attorney General's investigation into financial mismanagement at the Congress). In the section, he speculates that Mr. Singer, who still played a prominent role in the organization at the time, may not have been fully supportive of Matthew's rise to president and concludes: "This is a subject that Edgar will need to put on the table with Singer at some point."
Mr. Bronfman's candidacy had already taken several hits in recent weeks, most notably in the form his forced resignation from the board of Israel Discount Bank following an investigation into whether he had used his position at the bank to advance his own interests. The memo may finally put an end to the possibility of the heir inheriting his father's throne.