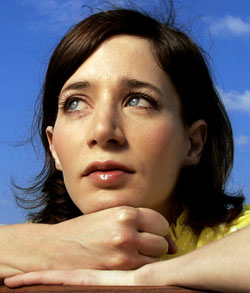 NO ONE BELONGS HERE MORE THAN YOU
By Miranda July
Scribner, 205 pages, $23
After Me and You and Everyone We Know, Miranda July became known as "that pooping back and forth forever" woman, the director who'd had the gall to make a sweetly awkward film that also investigated adolescent blowjobs and the fecal fantasies of 6-year-olds. Now that she's written her first book—a short-story collection blessed with another long-winded title, No One Belongs Here More Than You—the typecasting can finally stop.
This is not to say that the stories are lacking in libidinal eccentricity. Weird sex is here in spades, from an aging man's homosexual awakening ("The Sister") to a father who teaches his daughter the delicate maneuvers of clitoral stimulation ("The Moves"). Someone like Todd Solondz would take this material and craft a suburban freak show out of it, but Ms. July is graced with an unabashed love for the basic humanity of her characters. She's a true anomaly in that she's able to recognize the fucked-up underbelly of the culture while still having faith in that culture's ability to survive and, however impossibly, achieve a few moments of shattering beauty.
There's rarely a wrong note here. "Something That Needs Nothing" condenses a feature-length coming-of-age story (complete with fumbling lesbianism) into a short space; "The Man on the Stairs" uses a house break-in to frame the dissolution of a relationship. No One Belongs Here More Than You reflects certain trends in modern fiction, but Ms. July tends to leave out the bad bits. Unlike Ryan Boudinot and his crapulent The Littlest Hitler (a recent debut that was likewise liberally praised by Dave Eggers), she doesn't wax eccentric just for the hell of it.
In less talented, showier hands, Madeleine L'Engle's cheating husband, a horny "dark shape" spirit and a pedophile teacher, all jostling in the same story, would simply be an exercise in shock-and-awe. Ms. July takes those elements and builds "Making Love in 2003," a story that has an oddball heart beneath the surface ornamentation. In that sense, she's a closer cousin to George Saunders, another writer capable of harnessing surreal farce to authentic human emotion. Ms. July can be poetic without drifting into self-indulgence, as when she describes the habits of an accountant ("This is how he dismembers his day, in the most painful way, moment by moment") or the ignorance of a teenager ("Everything we had thought of as The World was actually the result of someone's job").
Those who were turned off by the preciousness of Me and You and Everyone We Know shouldn't disregard this collection; in our cynical age, her kind of wide-eyed hopefulness can be easier to process in print. "I'm crawling, sometimes for days, under the rubble," says an earthquake-preparedness instructor while discussing a dream in "Majesty." "[T]hen suddenly, I remember: the earthquake happened years ago. This pain, this dying, this is just normal …. Life is just this way, broken, and I am crazy to hope for something else." Miranda July is that rare bird who can look up from the rubble and still see a world worth rebuilding.
Scott Indrisek is the New York editor of Anthem.