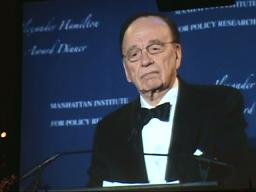 Rupert Murdoch thinks New York State is headed for a crisis, he explained during a speech last night at Cipriani, where he and former Mayor Ed Koch were honored by the conservative Manhattan Institute.
Murdoch said that the Manhattan Institute's ideas about governance had helped improve public policy. "But," he said, "I think the storm clouds are threatening again.
"Not to be too pessimistic tonight, but the crisis has already begun."
The problems, according to Murdoch: high taxes, the high cost of Medicaid and record-high spending on public education funding and too little to show for it.
"One effect of all this taxing and spending is clear: people are voting with their feet," he said. "More people move out of New York state since 2000 than any other state, except Louisiana. Many who remain simply can't leave, so they stay in spite of everything. New York's current political thinking takes for granted that they will never leave. New York's experiment with high taxes and higher spending has been failing for 50 years."
Murdoch also discussed the fiscal crisis, blackout, Son of Sam murders and arson that plagued New York shortly after he and his family moved here in 1974. Then, with some amusement, he said, "It seems there are people in this town now who believe these things happened because I came to New York."
One of the few light moments came at the beginning of Murdoch's talk, when he referred to his bid to buy the Wall Street Journal:
"Before these speeches, I'm advised one should try to tell a joke. Well, I'm not a jokester. But I think I remember one. So here we go. There were these two rich guys who walked into the Wall Street Journal. Well, I think I've forgotten the rest, but I believe it had a good ending."