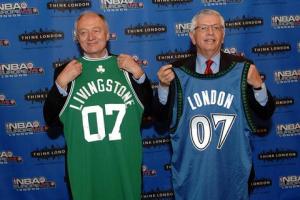 Today's Observer package on Little Europe (a.k.a. New York City) has a corollary: Europe is becoming a lot like New York, too. Witness this morning's announcement by London Mayor Ken Livingstone and NBA Commissioner David Stern that the basketball association will open an office in the British capital in order, according to the press release, "to focus on grassroots and business development efforts in Great Britain and throughout Europe."
Basketball, apparently, is Europe's second most popular sport, and NBA teams will play six preseason games over there in the fall, including one in London.
The announcement, however, was made in New York.