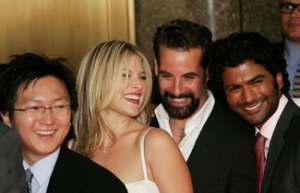 "The buzz was loud and clear, we struck a chord," said president of NBC Entertainment Kevin Reilly at the network's Upfront presentation yesterday afternoon. But: "Frankly, we need to be more better."
Mr. Reilly was saying what the hundreds of ad executives milling around Radio City for the first day of the Upfronts already knew. After several years blundering with dramas (c.f.: Big Apple) and failed comedies (Committed), NBC finally has some quality programming from a critical standpoint, like Tina Fey's 30 Rock or sports drama Friday Night Lights. Now someone besides the critics has to watch the shows.
Ranking at the lowly bottom of the Big Four, NBC pulled out only one mass-market it last season: Heroes saved the day, with an average of 14.6 million viewers and a Nielsen ranking at 20.
Mr. Reilly blamed the "zillion hours of American Idol" (and endless syndicated repeats) for their failure to bring in more viewers and break through spring fever.
"The world is changing," he said, sounding more ominous than hopeful. "Our business is changing."
Indeed, despite all the eye-candy the network trotted out for the besuited ad-buying set, and the enthusiasm of the press for much of NBC's line-up, the tone of the event was a little dour. The future for television, it seems, is one of endless compromises with the realities of the Internet age. The peacock was looking a little haggard and careworn and, well, old.
Like some old school chum from the Must-See TV days come to cheer things up, Jerry Seinfeld himself appeared on stage Monday afternoon.
"Ten years ago today, I was on this stage announcing another season," Mr. Seinfeld said. "Those were good times. There was no YouTube, there was UsTube."
But "we" haven't really sat down with NBC in great numbers since 2005. By then, the quality comedies like Seinfeld, Will & Grace and Friends, and the dramas Law & Order and ER, were largely sucked dry (though the latter two were both renewed, again.)
And so the audience received Mr. Seinfeld's rather glum presentation with a lukewarm, polite clap. He had to pump them up: "Come on!" he seemed to beg, and the few woops that emitted from the crowd almost made things worse.
"The programming is … different," Mr. Seinfeld continued. "The ratings are … different. You people are making a … different amount of money. There's not a whole hell of a lot I can do about that. But I'll try!"
Mr. Seinfeld's effort consists of 20 one-to-two-minute documentary shorts about the making of DreamWorks' new animated movie, Bee Movie, set for release on Nov. 2.
In previews, a bespectacled Mr. Seinfeld guides viewers through cheesy backstage set-ups, explaining the complicated process of modern animated movie-making. Again, what is new seems compelling to NBC mostly as a mystery. And here to explain the future is the golden-boy of NBC's past.
Indeed, the past is very much with NBC as it pumps the last gasps out of forever-running ER and its spunky roommate, Scrubs (it's hard to remember that Zach Braff still has a perch on network television sometimes) and banking on the lobotomized Deal or No Deal to keep bringing in the big bucks.
And then there's all the sci-fi.
"I'm psyched about this new crop," Mr. Reilly said, flashing a thumbs up.
When the cast of Heroes, NBC's winner about a group of people with supernatural powers, rose on a platform from the bottom of the Radio City Music Hall stage like something out of Spinal Tap, advertisers gave them a hardy clap, since they're the only ones that made them money this year.
Early yesterday the unsurprising news came that NBC is renewing the show. But also launching six episodes of a spinoff series called Heroes: Origins.
A new hero will be introduced each week and audience members will be able to vote on which one will appear in the new season of the main show. UsTube, anyone?
"It has been an incredible ride and we can't wait for the next chapter," said Masi Oka, the Heroes star whose character, Hiro Nakamura, can travel through time.
If only his network could do the same.
Meeanwhile, NBC is hoping to ride on Hiro's nerdy, office-attired coattails with Journeyman, a new mystery-drama about a San Francisco news reporter who can (gasp!) travel through time and save people's lives. The previews feature HBO's Rome star Kevin McKidd looking bewildered in a sweaty gray t-shirt while he discovers that he can hopscotch through history.
Mr. Reilly described him as "quirky, surprising and weighty all in seamless terms."
"The women tell me he's geekalicious!" he added, hopefully.
Less so the sexy superhero at the center of the Bionic Woman, featuring star Michelle Ryan (Cashback, Mansfield Park) having Spider-man-esque discoveries about her super-speedy legs and high-tech eye, complete with roof-jumping and fist fights in the rain.
Action, apparently, "has a new name." That would be Chuck, the love child of O.C. executive producer Josh Schwartz and action-movie director McG (Charlie's Angels, We Are Marshall). And guess what: More nerds!
The Converse-wearing main character, Chuck Bartowski, is plucked from the geek squad in a computer store by a pretty-faced blonde to be led through explosions and car chases as some kind of secret agent.
Rounding out the crop are cop drama Life and Lipstick Jungle, based on Candace Bushnell's novel. It sounds like a promising drama line-up, but then so did Studio 60 and the Black Donnellys.
And so, inevitably, a big part of Mr. Reilly's presentation was about trying to turn the network's critical successes into eyeballs, promising (promises, promises!) the network would "do [its] damnedest" to make sure Heroes ropes some viewers.