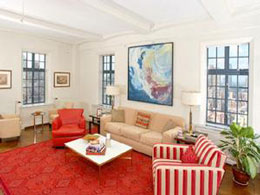 At long last, steely Dateline NBC co-anchor Stone Phillips has sold his triplex penthouse at the Oliver Cromwell, an 80-year-old Central Park West co-op. Mr. Phillips' six-room apartment was first listed back in fall 2005 for $5.5 million.

But, according to city records, Mr. Phillips 27th-floor apartment sold for a bit less--$4,350,000--to a fashionable buyer: Fred Gehring, CEO of the Tommy Hilfiger Corporation.

Mr. Phillips, a former Yale University star quarterback, apparently liked to watch TV. According to the listing with the Corcoran Group's Fran Davis, his old triplex has three large high-definition televisions, plus flat-screens in the floor-heated kitchen and the top-floor dressing room and master bathroom too.

Besides its television, that bathroom also has a windowed shower, in which, as Ms. Davis wrote, you can "feel the summer breeze." Classy! Likewise, the wainscoted 25.5-foot-long dining room has leather-paneled walls; the planted, 300-square-foot terrace off the middle floor boasts an outdoor sound system for view-drenched serenading.

Mr. Stone and his wife Debra, a New York social worker, have reportedly upgraded to a $4.4 million, 4,100-square-foot loft on West 19th Street. On the downside, the newsman will no longer awake to the sun rising over Central Park.