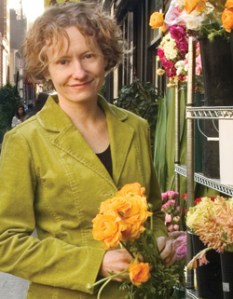 Mad scientists in Europe are breeding more new varieties of flowers than ever. But no matter, ask any florist in New York: The star of spring is always the peony. It is the Dior. "No one has ever said, 'Don't give me a peony,'" said Michael Davis, owner of Elan Flowers in Tribeca.
"I would have to agree about the peony," said Reed McIlvaine of Renny & Reed on Park Avenue, while setting up a party for the Drawing Center at Tribeca Rooftop. "They are just about my favorite." As for Meredith Waga Perez, co-owner of the Belle Fleur studio on Fifth Avenue: "No matter how many peonies I bring in, I sell out every single day," she said. "Peonies are a New York favorite, and it just gets stronger and stronger. I think they're very sexy. The red charm peony, when the petals start to fall, they don't wilt or bruise; the petals will just fall off." They will not remind New Yorkers of the ups and downs of life and death.
The cool, fluffy peony, so Mrs. Dalloway, is especially perfect for women moving about in this season's fragile, tissue-thin flowered dresses. The women in them will look wonderful holding peonies in their arms. It would be hard to imagine them holding water-retaining succulents that feel like the touch of a reptile: all fleshy green, mauve and brown, sitting in a pile of black river rocks, all of which looks like it's in the garden of the Alligator People. "I am so over them," said Raquel Corvino, a designer based in West Chelsea, of succulents. Ms. Corvino, who creates arrangements for Jean-Georges Vongerichten's restaurants and for André Balazs, to whom she recently suggested sending people a towering cherry blossom in a single vase, said:
"Succulents don't change. It takes so long for them to bloom. There's nothing more modern than representing what is traditional—the lilac, the scent in the air." One does hope there will be a backlash soon against spare floral arrangements, which tend to make homes look like hotels and nightclubs.
"I have clients who don't want another Zen-like experience," said New York City landscape designer Mario Nievera. "Now people want more detail." What detail? "Whatever is opposed to nothing." What is nothing? "Stainless steel, stone and pebbles."
"Whatever is classical that we got from our grandmother—you can't do better than that," said Olivier Giugni, who had a cold (a setback in the flower-sniffing profession), speaking from his L'Olivier Floral Atelier on West 14th Street, which has a Moroccan garden. "Every year, they come up with a new variety of flower," added Mr. Giugni, who is from the South of France. "There is nothing better than the rose—now they do roses with four colors. Very weird." (Though there is also a "bloody" red rose with sparkling gold, silver or black along the top of the petal, and he said he liked that.)
Regarding a return to the romantic, Mr. Giugni said: "The romantic bouquet is an English bouquet, in the mind of the people. It is a mixture of lilac and peony, like you find in an English garden. For me, that is not romantic. One kind of flower in one vase, extremely clean, is romantic. The one flower could be anything—peony, frescia—as long as it is very clean."
One or many, flowers are getting fatter, which means there is more to crush one's face in. Renny & Reed have coral peonies six inches in diameter. The mad scientists are growing reniculous (another favorite of the lush set, as it is rose-like) as big as oranges, with hundreds of petals. Bigger is just a trend all around. "Six-foot-tall roses are coming up from Ecuador," said Amy Stewart, whose Flower Confidential was just published by Algonquin Books of Chapel Hill. "They have freakishly long stems." Taller than a human. "Big roses are really getting people's attention," Mr. Giugni said. "But huge roses look like cauliflowers. That is not very romantic."
All kinds of flowers are now coming into New York City more months of the year. They fly in by airplane from Europe, South America, California. A person could get a peony in January when it arrives from New Zealand.
"They are putting money into making a sturdier flower, more durable for travel—one that lasts longer in a vase, that doesn't drop petals or shed pollen," Ms. Stewart said. "Now these new varieties are being bred to open into this sort of half-open shape before they're harvested. This way, flowers will last as long as if you bought them in the bud stage. As humans live longer, so are cut flowers." We are all just going to go on forever in this eternal hell.
"People think flowers are supposed to last two weeks—what the hell is that?" asked the Brazilian born Zezé, in his shop on First Avenue at 52nd Street with the stone statue of Bacchus. "Flowers is the moment you receive them, the moment you never forget. After two, three days, who cares?" He then showed a Zagat mention about how his orchids "last longer than most." Like art, writing, food, the whole matter of flowers is about not wanting to disappoint.