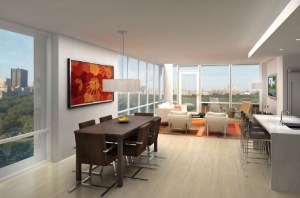 The lavish luxury of Central Park's iconic perimeter—a cascade of gloved doormen and laddered libraries and chandeliered dining rooms—doesn't extend to the park's northern edge quite yet.
But George Hirsch, founding publisher of New York magazine and then The Runner (which merged with Runner's World), has bought a 1,955-square-foot apartment at the frothy new 111 Central Park North for $2.7 million.
"We're going to watch this neighborhood improve and become a more interesting place," Mr. Hirsch told The Observer.
He'll be moving from an old Kips Bay townhouse into a pricey new building: Last year, one of 111 Central Park North's two penthouses reportedly sold for $12 million, apparently more than three times the amount of the neighborhood's previous top sale. (It's not clear, however, if the deal will close for quite so much.)
"On the one hand, we're buying into what's got to be, at this stage, the most expensive condo in Harlem," the septuagenarian Mr. Hirsch said (according to developer Athena Group, it's also the block's first residential high-rise).
"And, at the same time, to be right on Central Park and to have these sweeping views—think of what you'd be paying for the same three-bedroom, 1,900-square-foot apartment if you were on Central Park West."
When New York magazine was launching, Mr. Hirsch began to jog to fend off anxiety: "Central Park became my country club," he said. "I can remember doing a loop around the park in the late 1960's and maybe seeing three or four other runners." (He later became a co-founder of the New York Marathon.)
Appropriately, he was in the middle of a weekend jog when he first beheld his future condo, which opens in September.
But will he and his wife enjoy full-time life in their northern environs? "Everyone is out on the street and walking and going in to get the morning paper and coffee. And that will happen with us …. We're going to be happy right off the bat."