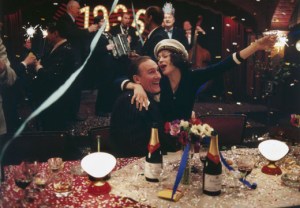 La Vie En Rose
Running time: 140 minutes
Directed by: Olivier Dahan
Written by: Oliver Dahan and Isabelle Sobelman
Starring: Marion Cotillard, Sylvie Testud, Gérard Depardieu
Olivier Dahan's La Vie En Rose, from a screenplay by Mr. Dahan and Isabelle Sobelman (in French with English subtitles), moved me as no other musical biopic has ever moved me—which is not to say that this overlong French production is a good, much less great, movie (soap opera, some might say). Others might complain that it wears its tender heart on its sleeve. No matter. Still, I myself would have wished that all the pungent and poetic French lyrics to Piaf's songs had been given English subtitles. As it is, only her stirringly self-defining exit aria, "Non, Non, Je Ne Regrette Rien" is translated in the subtitles. It was this rousing anthem of a song that I used to play over and over again on café jukeboxes during my life-altering year in Paris in 1961, two years before Piaf died in her Riviera home from cancer at the age of 47. But sure enough, time and again, French students would make faces at my selection and play Elvis Presley recordings instead.
Mr. Dahan has wisely chosen to break up his mostly sad story of Piaf's life and career into little pieces of time, flashing forward and backward, from the gutters of Pigalle, with Piaf as a pimp-driven street singer, all the way to her international eminence (though on the same life-as-art trajectory described by such lifelong torch-song casualties as Billie Holiday and Judy Garland). Born in the Belleville slum district of Paris in 1915, Piaf was abandoned by her parents at an early age and brought up in a brothel by her paternal grandmother until the day that her father, a street and circus contortionist, reclaimed her and made her his assistant—a job in which she worked until she could earn her own living as a street singer.
Marion Cotillard gives a highly charged, heavily made-up performance as the grown-up and decidedly unattractive Piaf, after an uncanny rendition of Piaf at age 5 by Manon Chevallier and age 10 by Pauline Burlet. The point is that it takes three fantastically intense incarnations of the Piaf persona to provide an existential chain of credibility in the torments of single life. Throughout all her travails, as the movie shows, Piaf couldn't bear to be alone: Among the people to whom she clung was her loyal companion Mômone (Sylvie Testud), from her earliest street days; the very maternal prostitute Titine (Emmanuelle Seigner), who nurtured little Piaf through her near blindness; Louis Leplée (Gérard Depardieu), the café owner who gave Piaf her first big break; Louis Gassion (Jean-Paul Rouve), the stern taskmaster who forced Piaf to sing her lyrics with precise diction as well as tumultuous passion; and Marcel Cerdan (Jean-Pierre Martins), the already-married middleweight boxing world champion and great love of her life, until he died in a plane crash in 1949. In between were two marriages, a small child who died from meningitis, and two near-fatal car crashes.
Surging through all these jumbled sequences of pain, pleasure, joy, sorrow, loss, recognition, rejection, applause, separation and reunion, the voice of Piaf singing on the soundtrack provides a triumphantly unifying thread of lyrical grandeur. One could be forgiven for imagining that Piaf's story could be told in no other way to achieve the coherence and conviction it displays. But then I am probably prejudiced from a combination of nostalgia, Francophilia and Piaf-worship. All I can say is that the total experience left me in tears, albeit also with a feeling of total emotional exhaustion.