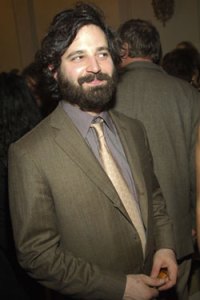 Before leaving for a Memorial Day weekend tour of the Caribbean aboard the Queen Mary 2, theater heir Simon Hammerstein, the man behind the burlesque nightclub the Box (see The New York World, p. 3), intimated that he is about to unpack something new.
"We're looking into expanding into different areas," said Mr. Hammerstein in a phone interview on May 26. He said that there had been some interest in opening a Box in (where else?) Las Vegas, and even some discussion of expanding abroad. "I think it'd be amazing to do it in Prague," he said, noting that there would be fewer corporate and government strictures there.
Anything more immediate? "Yes," Mr. Hammerstein said. "We're interested in what people do when they leave the Box." You mean, like, eat? "No, not a fucking dinner," he said with a chuckle, but refused to elaborate.
"They're going to open a bathhouse," said a floor manager at the Box later that night. And then: "I'm not sure if anyone's supposed to know that." Oops! Another Box insider confirmed that some sort of bathhouse or sauna is being planned.
In even more Box news, items made by high-end sex-toy proprietor Kiki De Montparnasse (which just opened a new branch in Soho) are soon to be sold at the club, including 18-karat gold-plated handcuffs, silicone- and water-based lubricants, and a faux-snakeskin cock ring. "It's a great fit," a Kiki rep said of the collaboration.