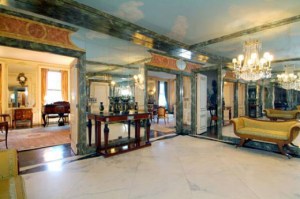 Supply and demand can be a glorious thing. Uptown, where the full-floor co-ops come with Rococo-style drawing-room paneling and the maids' quarters can't be counted on one hand, there aren't nearly enough lavish apartments on the market.
So even though the late Lilyan Spitzer Lindemann's fifth-floor spread at 944 Fifth Avenue was an estate sale, it sold this month for $16.51 million.
"She did the apartment in 1949," said listing broker Edward Lee Cave, "so it really shows you how a family of taste lived in that day." Indeed, there's a built-in wet bar, six walk-in closets (plus cloak room), 24 windows and a 14-foot-long pantry, plus a marble master bedroom and even faux-marble painted in the front hall.
The buyer knows what he's doing: Jay Mantz, a managing director at Morgan Stanley, had until recently been co-head of the firm's massive real-estate investments practice.
His new four-bedroom apartment went on the market late last summer for $18.9 million, before a $3 million price cut. Then the full-pocketed investors came! "In January, when the Wall Street bonuses hit the market, we had a surge of interest," said Mr. Cave's colleague, Caroline Guthrie, "and, actually, we ended up having to go to sealed bids."
Wall Street folk probably liked the 62½ feet of Central Park views from the living room and master bedroom (both with wood-burning fireplaces) and the Louis XV–style library.
And best of all, Barbara Walters lives one floor up.
So Mr. Mantz will live beneath a lot of fanciness: "They had done some incredible decorative painting in the gallery," Ms. Guthrie said about the sellers, "so that the ceiling was very cleverly designed with a sky and clouds."