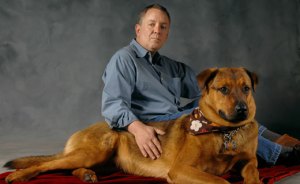 In 1987, John Woestendiek won a Pulitzer Prize in investigative reporting for The Philadelphia Inquirer. "For outstanding prison beat reporting, which included proving the innocence of a man convicted of murder," the Pulitzer citation reads.
In May of 2007, he launched a pets blog for The Baltimore Sun.
"To dogblog or not dogblog," Mr. Woestendiek wrote recently. "That was the question."
He was speaking rhetorically.
Over the past two weeks, Mr. Woestendiek has filed items on everything from how raisins can cause fatal renal failure in dogs, to restaurants banning dogs, to dogs getting married.
"When you write about dogs, I've found from previous experience, you always get more reaction than anything else," Mr. Woestendiek recently explained to The Observer by phone. "I think cat stories do pretty good, too."
His dog blog anchors a new multimedia portal on The Sun's Web site, called Mutts. In addition to the blog, the site allows browsers to post pictures of their own dogs, read about upcoming events for pets and pet owners, and watch videos of adoptable pets.
Much of the blog's content focuses on Mr. Woestendiek's relationship with his dog Ace. Recently, Mr. Woestendiek filed a seven-part story and accompanying video documentary about his efforts to determine Ace's genetic heritage. He and Ace are now going through a training program to become dog therapists.
Mr. Woestendiek is hardly the first seasoned newspaperman in recent years to write about his dog.
In 2005, former Philadelphia Inquirer columnist John Grogan wrote Marley & Me, the mega-best-selling book about his family's relationship with its Labrador retriever. Currently, Washington Post columnist Gene Weingarten is working on a book called Old Dogs, inspired in part by his own recently departed Labrador retriever. Along the way, Mr. Weingarten has drawn inspiration and material for the book from participants in an online chat at washingtonpost.com.
Recently, Mr. Woestendiek received a phone call from a publishing company about doing a dog book. He points out that for several years, he wrote a humor column that appeared on the front of the metro section of The Inquirer. Not long after he stopped the column, Mr. Grogan took over the same space.
"Because Marley & Me was so successful, I don't want to be a copier of that," said Mr. Woestendiek. "Except, you know, I'd take all the money that that book made."
So what's the future of Mutts?
The Baltimore Sun continues to adjust to the digital age—a transformation that, to date, means less foreign coverage (in recent years, the Tribune Company has dispensed with all five of The Sun's foreign bureaus) and more pet coverage.
In August, Mr. Woestendiek will be taking a brief leave of absence from The Sun to teach a journalism class at the University of Montana. The Pulitzer Prize–winning pets blogger said that he will draw heavily upon his experience with Mutts to guide his students on a semester-long multi-platform storytelling project. At the same time, he will be blogging on Mutts.
At some point, Mr. Woestendiek would like to return to weightier subjects. But for the time being, Mutts has grown into a full-time job.
"There's a resurgence of media interest in dogs and pets right now," said Mr. Woestendiek. "A lot of papers across the country are letting, you know, old so-and-so write about pets once they're washed up. I hope that's not the case with me.
"In the long run, I don't see myself retiring as the pet writer," added Mr. Woestendiek, who is 53. "Although it very well may happen."