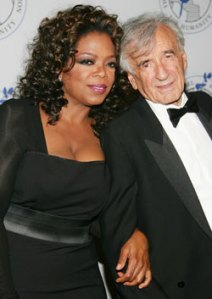 It's hard to imagine two people whose combined influence could get more important people off their couches and over to the Waldorf-Astoria on a Sunday night (May 20) than Nobel Prize winner Elie Wiesel and talk-show hostess Oprah Winfrey, who was being honored by Mr. Wiesel's foundation.
For once the tip sheet was true: Dustin Hoffman, Ron Howard, Diana Ross, Edie Falco, David Bowie—everyone was there (even, somewhat incongruously, Showgirls star Elizabeth Berkley). That's the way Oprah rolls. "It's a very New York hoi polloi," said the honoree's B.F.F., Gayle King, clearly meaning quite the opposite.
ABC eminence Barbara Walters served as M.C. Before dinner, the violinist Itzhak Perlman played. Then actor Sidney Poitier gave a very captivating and serious speech.
From the podium, in that trademark steady patter of his, Mr. Poitier conveyed that he truly believed that "real-life, down-to-earth angels do exist. They may not have wings," he said, but they're out there. Ms. Winfrey, he declared, was one of these heavenly beings.
The woman of the hour was seated next to Mr. Wiesel at the center of a long table in the middle of the Grand Ballroom. Was she truly an angel?
"Damn, that's goooood," Ms. Winfrey said, gently poking The Transom's cheeks. "Well, to be called an angel by Sidney Poitier makes me want to believe it. Because he doesn't lie or make up stuff, nor does he use words frivolously. I mean he's a very careful sort of individual.
"I do know that there are angels walking amongst us," Ms. Winfrey continued, adding humbly. "But I don't think of myself as one. If you were an angel, wouldn't you know it?"
Ms. Walters, bless her, brought the whole matter back to earth. "Do I think she's the kind of angel that flies around a room?" she said of her colleague. "No."