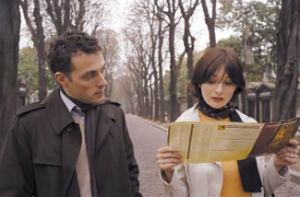 Paris Je T'Aime
Running time 120 minutes
Directed by Olivier Assayas, Alfonso Cuarón, Joel and Ethan Coen et al.
Written by Gurinder Chadha, Gus Van Sant, Gena Rowlands et al.
Starring Juliette Binoche, Elijah Wood, Nick Nolte, Maggie Gyllenhaal
Paris Je T'Aime was originally conceived as a project in 2000 by French TV director Tristan Carné, who approached producer Emmanuel Benbihy with the idea of a feature-length film, made up of 20 five-minute segments celebrating each of Paris' 20 arrondissements or neighborhoods. Each arrondissement's story was to be contributed by a different director, French or foreign, though with French production crews and mostly French performers, and a generous sprinkling of English-speaking actors from America and Britain. In the end, the producers rejected two of the short works, by Christoffer Boe of Denmark and the French-Israeli director Raphaël Nadjari. After having seen the 18 pieces that made the final cut, I can't help wondering on what grounds the two rejected works were judged unworthy. This is to say that there are more than a few candidates among the chosen 18 that deserved to wind up on the cutting-room floor, though the picture as a whole isn't a complete waste of time. There is Paris, of course, as a constant delight, and there are several acting presences who manage to transcend what in retrospect seems to have been a not very good idea.
After all, the idea of Paris has inspired many gifted directors to achieve some of their best work, notably Jean Renoir's Boudu Saved from Drowning (1932), René Clair's Under the Roofs of Paris (1930), François Truffaut's Shoot the Piano Player (1960), Jean-Luc Godard's Breathless (1960), Claude Chabrol's Les Bonnes Femmes (1960), Eric Rohmer's Rendezvous in Paris (1995) and Billy Wilder's Love in the Afternoon (1957), among many others. But even these eminences might have had difficulty squeezing all their feelings about Paris into one five-minute short.
Joel and Ethan Coen stay entirely in the Tuileries Metro Station with Steve Buscemi's caricatured American tourist for the only flat-out funny interlude in the film. Alexander Payne directs a very good (but not nearly well-enough-known) American stage and screen actress, Margo Martindale, complete with a touristy broken-French narration that allows her character to become the only one to express affectingly the sheer wonderment of being in Paris. Several of the episodes reflect the somber reality of contemporary Paris, with the ugly class and race divisions uncovered during the bitter campaigning of Nicholas Sarkozy on the right and Ségolène Royal on the left. Gurinder Chadha from the United Kingdom brings the Muslim presence in Paris into the picture in her "Quais de Seine" episode, in which François (Cyrol Descours) sits by the bank of the Seine with his two friends as they make rude remarks to passing women. When a Muslim girl, Zarka (Leila Bekhti), stumbles in her embarrassment and loses her veil, François runs to assist her and then walks her to her mosque. The film ends benignly with Zarka's father befriending François for his chivalrous act. Not so benign is the "Place Des Fêtes" piece, in which Hassan (Seydou Boro), an African immigrant from Lagos, is stabbed for no reason by a vicious young white gang member. He is tended to by a young and inexperienced French-African medic named Sophie (Aïssa Maïga), who remembers just before he dies that she has met Hassan before by the song he has sung on both occasions with a sweet fatalism.
The "Pigalle" segment, written and directed by the American Richard LaGravenese, is unexpectedly romantic, with a trick plot uniting two seeming strangers, Bob (Bob Hoskins) and Fanny (Fanny Ardant), in a bar where the jukebox is playing a soulful ballad, "Then You Can Tell Me Goodbye." A less-happy ending occurs between Ben (Ben Gazzara) and Gena (Gena Rowlands) in the "Quartier Latin" episode written by Gena Rowlands, and directed by Frederic Auburtin and Gérard Depardieu, who keeps his acting hand in by playing the tiny role of the bartender who serves drinks to Ben and Gena while they discuss the signing of divorce papers.
The prevailing downbeat of the film is sustained with an added dose of disillusionment in the "Quartier Des Enfants Rouges" interlude, in which Maggie Gyllenhaal plays Liz, a drug-addicted American actress in Paris shooting a period movie. After she buys drugs from a local dealer named Ken (Lionel Dray), she is attracted to him—but when she calls him for another batch, he sends another dealer instead, much to her dismay. Olivier Assayas wrote and directed this dismal exercise in disenchantment. The Eiffel Tower is dragged into the proceedings with a mime plot involving the not untalented Paul Putner as the guy and Yolande Moreau (so memorable in 2004's When the Sea Rises) as the gal. And always there is Paris itself, ineffable and indestructible even when it is beset by vampires and an otherworldly cowboy on a horse, in two of the more woeful whimsies in the film.