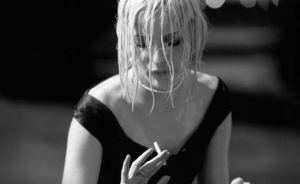 Genetics can sometimes seem totally unfair. How else to explain Rie Rasmussen? For starters, the 29-year-old—soon to be seen as the star of Luc Besson's new film, Angel-A, a gorgeous black-and-white examination of the fragility of human relations (opening May 25)—is unquestionably beautiful. Sitting in the Cutting Room in Chelsea last week, Ms. Rasmussen was as stunning in person as she has been in films like Brian De Palma's Femme Fatale, modeling for Gucci or wearing barely more than wings in a Victoria's Secret fashion show. Her cheekbones and light eye color are reminiscent of a young Michelle Pfieffer, but she also has the raw, animal, almost masculine sexuality of a Angelina Jolie. Clad in a cream-colored knit tank and black pants that stretched for what seemed like miles over the legs that make up most of her 5-foot-10½-inch frame, she wore little makeup and had her long hair impatiently pulled back. She draped herself where it suited, tossing her long limbs effortlessly over chairs, unself-conscious and secure in her beauty.
O.K., fine! Beautiful model turned actress—we get it. But then there's the fact that she writes and directs, too; her first short film, Thinning the Herd, went to the Cannes film festival in 2004. Oh, and she paints and takes photographs, and has a new coffee-table book filled with her work—including many startling, naked self-portraits—entitled Grafiske Historier by Lilly Dillon. Oh, and she learned French in just a little over three months before filming with Mr. Besson. Most annoying, she's effervescent and likeable, down-to-earth. She has a mouth like a truck driver's, and no filter at all when it comes to talking about things like her dabbling in bisexuality ("It was just another part of my life"), the fashion industry ("They are a bunch of insecure little crybabies and I have no respect for them") or the current Hollywood scene ("They make a movie just to make a movie. They go to yoga, then they eat sushi, then they go to yoga but with hotter temperatures, then they get a massage, and then they get their nails done. That's their fucking life. Who wants to talk about that?")
In a world where Hollywood stars are cosseted and managed within an inch of their lives, coached to spit out the perfect, bland sound bite, Ms. Rasmussen is a rare thing: a woman who doesn't seem to care a whit about how her public perceives her, or how her words or actions might affect her career.
Born in Denmark, Ms. Rasmussen grew up rather unusually, in what she calls a family commune. Her parents each were married multiple times, and between them all, she grew up with eight siblings, under one single roof. "Kids are the religion in my family," she shrugged. "Do not have kids if you're not willing to give up everything for them. Why reproduce? You can have sex all you want, take pleasure—great. But why reproduce unless you raise your kid thinking it is going to be the savior of the world? That's how I was raised.
"Everyone is an artist, schoolteacher or a historian—I got three kick-ass moms," she continued. "In Scandinavia, there is no difference between men and women. That's how I grew up. My mom can take a car engine apart, rewire a lamp, or solve any mathematical fucking solution. She's punk rock!" Growing up, she said, she was obsessed with storytelling and made up tales with her sister ("ridiculous, dramatic young-girl stuff—love and entanglement … but guns would always somehow get in there. My mom saved them all—they're horrendously good."). She watched tons of old movies and became enamored with the classics. "Rural Denmark, darling," she said, laughing. "Nothing else to do—it was cows and a VCR." She talked raptly about her early cinematic influences: Carol Reed, Howard Hawks, Hal Ashby, John Huston and Sergio Leone (when her cell phone rang later on, the chime was the famed whistle from The Good, the Bad, and the Ugly).
Ms. Rasmussen has little time for today's Hollywood starlets, even the smart ones, who seem dizzy with the pressure to love and succeed. "Fuck, girls still to this day don't talk like they do in The Big Sleep," she said. "There are no girl characters like that now. They're all bippity-boppity. The female icons that girls look up to now? Honestly, I'm ashamed of being a woman." She talked excitedly about how, in today's cinema, "tough" women are unbelievable. "Every single actress does the same exact thing," she said. "They walk like this"—she got up and squared her shoulders exaggeratedly. "No one can walk like this! Because if someone came chasing after you, you couldn't run away. But if someone is really tough, they move like an animal." She flattened herself against the wall. "You can see them, they are in the shadows and alongside the side of the building. They're not walking around like 'I'm so tough.'"
She folded her long limbs back into the chair. "It's so dumb the way females are portrayed. Women who can kick ass but still have a heart—we're not represented at all in the cinema."