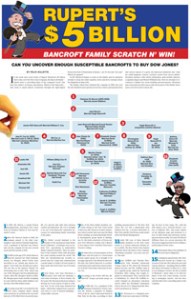 In the week since news broke of Rupert Murdoch's $5 billion bid to take over the Dow Jones Company, the Bancroft family—which owns a controlling share of the company's stock—has been the subject of intense speculation. Which of the Bancrofts—who seem to speak almost exclusively through the tight-lipped Boston law firm of Hemenway & Barnes—are for the sale? Are any? Which are against?
As Mr. Murdoch begins to work on the family, and its stalwarts attempt to keep the ranks together, more and more emerges about the Magnificent Bancrofts.
The family, which first obtained the company in 1905, has over the last hundred years spread across the country and pursued lives and careers typical of a great old American industrial clan—they are small magazine owners, teachers, power-boat racers, philanthropists, farmers, roller-derby enthusiasts, male models, lawyers, a cappella singers and Montel Williams fans. Here [765kb file] we attempt to reconstruct a family tree, from wedding announcements, obituaries and conversations with sources who know parts of the family (since such a very few seem to know all).