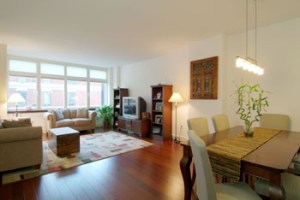 After a hard day's work herding blue-blooded 9-year-olds in Ferragamo ties and Sperry Top-Siders, the head of Saint David's School deserves to retire to a multimillion-dollar home.
According to city records, the all-boys prep school on East 89th Street has paid $2,995,000 for two side-by-side condos in Philip Johnson's three-year-old Metropolitan, one block northward. The sellers of Apartment A were David and Elise Dowell, recent Columbia Business School grads; Willkie, Farr & Gallagher partner Xavier Dieux sold Apartment B.
"They bought it for the headmaster," said listing broker Elizabeth Spahr of the Corcoran Group. "It's got a lot of bedrooms"—three or four, depending on the layout. "The family that is going to occupy it has a lot of children."
According to the school's Web site, the Australian headmaster goes by the headmasterly handle of Dr. P. David O'Halloran—though Ms. Spahr wouldn't confirm names. But she described the condo's scholarly convenience: "You've got all the major private schools in the area—St. Bernard's, Saint David's; you're not too far from Buckley; you're near Spence and Nightingale for girls!"
In order to combine the condos, which Ms. Spahr marketed both separately and together, the buyers will break down the wall separating one apartment's "mud room" from the other's entryway walk-in closet.
Saint David's deeds are signed by Eugene Williams, who is listed in a 2005 school publication as the board chair. It isn't clear if he paid for the apartment himself; Saint David's did not return calls.
Are all uptown prep schools buying their own combined-unit pads? "Many schools own property in Manhattan," Ms. Spahr said. "They buy, I guess, for their heads. I know Brearley bought a house."
Incidentally, seller Xavier Dieux comes from academia, too: He was the dean from 1996 to 2000 at the Université Libre de Bruxelles.