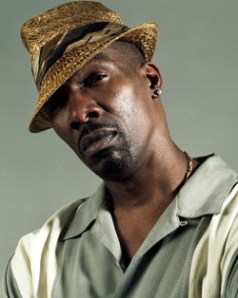 Some jokes never get old. You'll be on the subway or walking down the street and suddenly you're chuckling to yourself about a long-ago Saturday Night Live sketch—maybe Eddie Murphy in "Mr. Robinson's Neighborhood," or Jack Handey's "Deep Thoughts," or maybe Phil Hartman's Frankenstein singing Christmas songs.
Or maybe it's something from Chappelle's Show, Comedy Central's unexpected megahit from a few years back, which has sold more DVD's than any other television show, ever.
It was way too short-lived—the show ran only two full seasons with its namesake as host, and one abbreviated one without him. Of all the biting, hilarious sketches, "Charlie Murphy's True Hollywood Stories" were perhaps the most memorable of all.
Meet Charlie Murphy, older brother to Eddie. Fans of Chappelle's Show will remember (and others can look online—thank you, Internet!) his dispatches from a hard-partying 80's entourage: In three separate segments, Mr. Murphy recounted—with wide-eyed astonishment—coke-tinged nights at the height of Eddie's fame, hanging out with celebrities at Studio 54 and the China Club, sporting track suits and Jheri curls. One of those famous people was corn-rowed, gold-toothed "Superfreak" Rick James (played by Dave Chappelle), who would punch Mr. Murphy for no reason and generally provoke him into giving a retaliatory beating, sometimes involving karate-style moves.
One time, for example, the Rick James character punched Mr. Murphy in the face while wearing a ring that read "Unity." As the story goes, the word was stamped into Mr. Murphy's forehead for a week.
Why in the world would the platform-shoe-wearing, crazy-cackling Mr. James do such things? The answer became a shibboleth oft-quoted among the Chapelle's Show's adoring fans: "I'm Rick James, bitch!"
Mr. Murphy, 47, was the surprise breakout star. He is tall, lean-looking, dark-skinned ("Back then, we was the blackest niggaz on the planet, according to Rick James," he said on Chappelle's Show), and bears a striking resemblance to his brother—though his hearty laugh isn't quite as unhinged. Neither Murphy, at least on-screen, looks a day over 35. "Charlie Murphy's True Hollywood Stories"—exactly what they claimed—were among the most side-splitting, effective sketches on a show that was seriously funny, creative and always edgy. (Another favorite sketch: A fake game show called "I Know Black People!") In the Hollywood sketches, Mr. Chappelle also played Prince, who appeared dunking baskets with his team "the Blouses" and making pancakes.
At the same time that he was working with Mr. Chappelle, Mr. Murphy was finding his stand-up legs, as his brother had almost 30 years before. (Remember Eddie Murphy's Raw?)
This week, Mr. Murphy will play a series of shows at Carolines on Broadway, where he first debuted four years ago.
Just don't go hoping to see "live" renditions of his true Hollywood stories.
"If you expect, like, a Dave Chappelle/Rick James sketch onstage, that's not part of my show," said Mr. Murphy from a hotel in Birmingham, Ala., where he was performing last weekend. "It wore itself out with me. I'm a comedian, I write new material, and I'm not going to allow myself to be pigeonholed. You can only say this: I have a lot of things to say, and I make sure that I do that while I have the opportunity to."
Asked what fans could expect from him at Carolines, Mr. Murphy was vague. "For me, if you're going to see a comedian, then you should be expecting to laugh," he said.
That's a hell of a promise—especially at a moment when stand-up seems to be terrifically out of vogue. With the exception of shock-femme Sarah Silverman and the right-wing dudes who spout stereotypes that pass for jokes, who's actually making it as a solo comic? Dane Cook? Not really. Louis C.K.? Not quite. Sketch shows rule—MTV's Human Giant and the Upright Citizens Brigade. It's lonely out there for a man on his own.
It's risky, too. Suggest going to see some stand-up and your average person will likely either groan or suddenly come up with other plans. ("I have to bathe my cat.") So much comedy—onstage, on television, in movies—just isn't funny. And the intimacy of a stand-up routine can be too much for many people to bear.
So it's all the more admirable that, midway through his life, Charlie Murphy has decided to put it all out there. He easily could have coasted on his brother's coattails, continued to appear in bit parts in movies, written the occasional sketch for someone. Instead, he's been on an almost constant comedy tour of the U.S. for four years, working to make his name as a genuine comedian who just happens to be Eddie Murphy's brother.
He realizes that he's been given a late-in-life gift—fame—and he plans to use it as best he can.