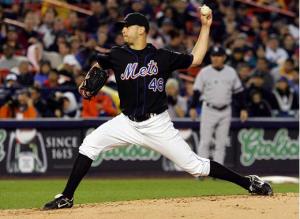 Oliver Perez sat calmly on the Mets' clubhouse couch Thursday afternoon, peering through a pair of black-rimmed reading glasses as he made his way through the Daily News. If he were feeling any nerves about his upcoming assignment, the Subway Series opener against the Yankees, he didn't show it.
"I'm just going to keep trying to make the good pitches," Mr. Perez had said, standing by his locker. "I feel good right now. The key is to be consistent."
Throughout the 25-year-old lefty's career, one which has had more improbable peaks and valleys than most players' far older than he, that consistency has been elusive.
Mr. Perez, a soft-spoken, highly likeable native of Mexico, struck out 239 batters in 196 innings and pitched to a 2.98 ERA for Pittsburgh in 2004. By 2006 he was a throw-in to an under-the-wire trade deal with New York.
But even though his reputation for volatility has followed him to the Mets, Mr. Perez has become a markedly different pitcher in 2007. He's done so by throwing strikes.
Even in his dominant 2004 campaign, he walked nearly four batters per nine innings. By 2005-2006, that rate shot up to nearly six per nine innings.
For most pitchers, such wildness means a demotion to the minors, or worse. But lefthanders are in short supply anyway. And lefties who, like Mr. Perez, have a mid-nineties fastball, a devastating slow curve (which Mr. Perez calls a "slow slider") and a drop-off-the-table hard slider, tend to get second and even third chances.
The hurler entered 2007 on the heels of an unlikely performance, having earned the nod over the ineffective Steve Trachsel to start Game 7 of last year's National League Championship Series. The Oliver Perez that Mets fans have been fortunate enough to see this season was on display that night. He pitched six innings and allowed just one run (aided by a miracle catch from Endy Chavez). But he also threw 61 of his 88 pitches for strikes—nearly 70 percent. For comparison, Greg Maddux, the premier control artist of the last 15 years, is at 70.1 percent so far this season.
This was not a pitcher toning down his wildness, overcoming uneven control with unhittable stuff. This was a pitcher in total command.
His 2007 season has frequently been thrilling to watch, and he entered Friday night's game having allowed 14 walks in 42 innings; just three per nine. He'd thrown more than 60 percent of his pitches for strikes in six of eight starts, and more than 6 percent in half of his outings.
Those season totals are even more astounding considering that they include his disastrous start on April 6 against the Phillies, which featured what can only be considered a complete breakdown. With two outs in the third inning of that game, he allowed the following: single, walk, walk, walk to force in a run, walk to force in another run, hit batter to force in a third run. He was then lifted by manager Willie Randolph.
He threw just one called strike during the whole sequence. With his history, and reputation, people feared the worst. Rick Ankiel, a Cardinals phenom whose control mysteriously disappeared during the 2000 playoffs, never to return, was a recurring comparison. Fears abounded that his breakdown was not simply mechanical, but mental.
Critics were quick to compare Perez to Nuke Laloosh, the flame-throwing character in the film "Bull Durham" reputed to have "a million-dollar arm and a ten-cent head."
But if Mr. Perez had been guilty of overthinking or just losing control of his game, he bounced instantly and to ruthless effect. In his next two starts, against the Braves and Nationals, he struck out 18 in 13 2/3 innings—and did not walk a batter. (To return to the gold standard of control, Greg Maddux has just two zero-walk starts all season.)
Mr. Perez threw first-pitch strikes to nearly every hitter, and during the Braves outing, he had a streak of twenty consecutive strikes.
"I've simply gotten more and more confidence as the season has gone on," Mr. Perez said on Thursday in the clubhouse. "I'm going to go out and feel good about my next pitch, and focus on that pitch. I don't want to just strike out guys. When you get to this stage, you see that velocity isn't so important."
The strikeouts have been coming in bunches nonetheless. He'd fanned a batter an inning entering Friday's game, something no Mets starting pitcher had done over a full season since David Cone in 1991. Which should go some way towards explaining the unmistakable hint of swagger the team now assumes when Mr. Perez takes the mound.
"I think Game 7 last year was Oliver's introduction to Mets fans," Mets General Manager Omar Minaya said before Friday's night's Subway Series opener. "Maybe tonight is his introduction to Yankee fans."
Of course, that confidence may also have had something to do with the relative positions of the two New York teams at the moment.
While the Met rotation, driven by Mr. Perez and another young, out-of-nowhere star, John Maine, few Yankee pitchers in 2007 have even achieved mere competence, and the ones who have pitched well–Andy Pettitte and Mike Mussina–are a lot closer to the ends of their careers than the beginning.