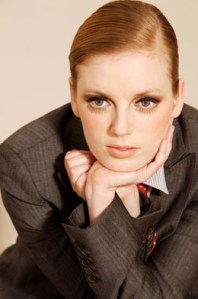 "I literally feel like I'm going to wake up and feel like I had the most narcissistic dream of all time," laughed Sarah Polley with a self-deprecating eye-roll. The 28-year-old actress was speaking about the effusive, heady reception her directorial debut, Away From Her, has already received, having garnered ringing endorsements from critics and audiences well before its May 4 opening date. "There's a natural life of a Canadian film, which is that it plays for a week in this one theater in downtown Toronto and no one ever hears about it," she said. "I made this film completely comfortable with that fate."
In person, Ms. Polley is startlingly small. Not small in the typical Hollywood wow-I-can't-believe-how midgety-that-big-star-with-all-the-teeth-is, but naturally fine-boned and delicate, with milkweed coloring that seems more suited to a Vermeer painting than a movie star turned auteur. Sitting in an office above Times Square last week, Ms. Polley was clad casually in a brown, long-sleeved scoop-necked shirt, jeans and candy-apple-red shoes. At first glance, she looks a lot younger than her 28 years—and if you passed her on the street, she could almost (almost) be any noticeably pretty and fresh-faced girl visiting town. But the illusion is shattered once she starts to speak. Her thoughts—clearly considered—tumble out in fast, articulate bundles. And she has the steady gaze and tell-tale habit of stopping and waiting for the next question when she's finished answering the last that speaks to a lifetime spent in the public eye.
Ms. Polley was born into a showbiz family in Toronto, to a stage-actor father and casting-director mother. She got into the business at the age of 6, landing her first major role a few years later as Sally Salt in the Terry Gilliam film The Adventures of Baron Munchausen (not always the most positive experience, she's since intimated) and finding stardom in her own country with the TV series Road to Avonlea.
"I think it was my idea, originally," she said of acting, admitting that by the age of 8 she probably would have been happier to be back in school, but also quick to assure that her mother and father weren't typically pushy stage parents. "But what happens is that you get so much pride from your parents for accomplishing that kind of thing that it becomes a pressure all in itself. For me, it would have been hard for me to let go of all that attention."
Slideshow: "The Cutest Auteur"As True Hollywood Stories has helpfully cataloged for us, and as Ms. Polley described it, the road of child stars is a notoriously fraught one. "It's a toxic combination for a child actor, one of pampering and neglect which leads to a kind of absolute insecurity and absolute egotism," Ms. Polley said. "It's an unfathomably difficult thing to unravel. Even it its subtlest form, the idea that you're forming your own identity as a child while you're in this job where you're being congratulated for pretending to be other people is really bizarre."
One consistency in the characters that Ms. Polley has portrayed is their tendency to be almost heartbreakingly wise, with a weary-before-their-time pathos brought on by the absence of childhood naiveté. Was it a quality she was aware of?
"I think as a childhood actor you acquire a kind of precociousness," she answered carefully. "But I don't know how deep it goes. Do you know what I mean? I think most people I've met that have grown up as child actors have been able to convey a sense of being older than they are, but it doesn't necessarily go a lot deeper than having learned that behavior, and"—she laughed—"in fact, it masks a very deep immaturity." She has no regrets, but she is aware that "it was kind of luck-of-the-draw that it didn't turn out badly for me. There were a lot of moments when it really could have."
Ms. Polley's mother passed away from cancer when she was 11, yet she continued to work with characteristic intensity, all the while becoming more politically active, toiling alongside like-minded lefties to oust Mike Harris, the Conservative premier of Ontario. In 1997, she starred in The Sweet Hereafter, a quietly devastating film that won the Grand Jury Prize at Cannes and nabbed two Oscar nominations for screenwriter/director Atom Egoyan (an executive producer on Away From Her and "a huge influence," Ms. Polley said). Her performance as the lone, wheelchair-bound survivor from a school-bus accident drew raves.
Hollywood took notice. The blockbuster-shy actress continued to stay within the independent-film realm, but after solid performances in the late 90's in films like Guinevere, David Cronenberg's eXistenZ and Doug Liman's Go, she found herself at a crossroads when she was cast in the part of Penny Lane in Cameron Crowe's Almost Famous. Two months into rehearsals, she quit the production. Kate Hudson replaced her to great acclaim, and the rest is Us Weekly history. "I just found myself in a situation where I was playing this part I didn't think I was right for," she said. "Cameron felt like I was right for it, but I couldn't quite see it. There was just this sort of machine around it, you know? You felt like whoever was going to play this part was going to have, like, this giant life, and I didn't want a giant life. I wanted a pretty normal life. It was a kind of survival for me, because I actually don't know if I would have survived that life."