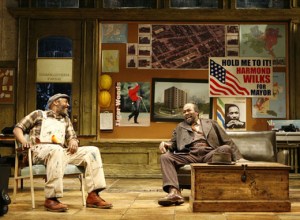 August Wilson's extraordinary first play, Jitney (1982), born in the chains of slavery and the necessity of memory, was a tragedy of small and profound lives lived out in good humor and mortal struggle and amazing grace, as if the fragility of life were a gift and poisoned chalice. The debut gave rise to Wilson's unique 10-play cycle of the African-American experience that spoke directly to the heart and soul of America like a great blues lament of infinite possibility defiled in the land of the plenty. And now it all ends with his final play, Radio Golf, completed as he died in 2005, and I don't know whether to celebrate or mourn the inconsolable fact that August Wilson's come and gone.
He was the playwright of our time who, above all others, made me believe in the power of theater. He never wrote movies. Only theater's embrace could give articulate voice to Wilson's humane stories about half-mad prophets and so-called ordinary folk who are natural poets, or convey the laughter of the dispossessed even as they drown in sorrow. I never came away from any of the plays—among them the great Seven Guitars, Ma Rainey's Black Bottom, Fences, The Piano Lesson and Joe Turner's Come and Gone—without feeling a sense of joy and abiding loss. All of them are memory plays, and tragic loss defines them.
Radio Golf, set in 1997, is the only example of a Wilson play to deal with the black middle class. Written in a minor key compared to the epic dramas, it's a sometimes furious comic parable about newly rich arrivistes and smart assimilationists who've forgotten who they are. The ghost still hovering over the action is Wilson's fantastic creation, Aunt Ester, the miraculous healer of lost souls and keeper of all historic knowledge, who died of grief age 366 mourning the fate of an America with no memory.
Ester's crumbling house is about to be demolished by opportunistic black entrepreneurs to make way for a massive shopping and real-estate development. This is the way the world will end, Wilson is saying: not with a bang, but a Starbucks, Whole Foods and Barnes & Noble. The great playwright of American history is in alien territory, however—the dawn of the 21st century and the America of Barack Obama, Tiger Woods and Bill Clinton's so-called Harlem Renaissance.
We're in the ruination of the Hill District of Pittsburgh—where many of Wilson's plays are set—but the bosses of the Bedford Hills Redevelopment Inc. don't speak the same language as their ancestors. Their confident, deadening corporate-speak has no music in it. Harmond Wilks (Harry Lennix) is the Obama figure, a successful real-estate developer who has a good shot at becoming the first African-American mayor of Pittsburgh, and Roosevelt Hicks (the excellent James A. Williams) is his uncompromising partner and banker—and a golf enthusiast in a white man's stronghold.
The play catches fire in the battle for Harmond's soul that's fought by some unlikely saviors, wonderfully played by two of Wilson's outstanding interpreters, Anthony Chisholm and John Earl Jelks. The eccentric Sterling Johnson (Mr. Jelks) is a broke handyman and ex-jailbird who runs his own one-man union; and Elder Joseph Barlow (Mr. Chisholm) is an apparently half-mad hobo who, it turns out, owns Aunt Ester's house, which he refuses to sell at any price. Though their symbolic value as custodians of black history hovers on the sentimental, there are enough flashes of lightning to raise the stakes. In a truth-telling scene shocking to some, Sterling declares war on the venal Roosevelt:
"You a Negro …. I'm a nigger. Negroes are the worst thing in God's creation. Niggers got style. Negroes got blindeyetis. A dog knows it's a dog. A cat knows it's a cat. But a Negro don't know he's a Negro. He thinks he's a white man. It's Negroes like you who hold us back."
In a short, insulting review of Radio Golf in The New Yorker, Hilton Als, a black critic at work in a white establishment, quotes that inflammatory speech with ill-tempered disdain, describing Wilson as "the worst kind of moralist" and taking the opportunity to loftily dismiss all his plays as "traditional, often cliché-ridden, and comfortably middlebrow." If that's so, why is he so disturbed by what the playwright has to tell us?
What appears to have upset Mr. Als' hitherto untroubled soul is his belief that Wilson "uses black people—which is to say 'real' or poor black people—as the barometer by which all others must be judged; anyone who doesn't fit the bill is just plain evil."