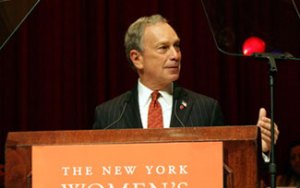 The polls done for Michael Bloomberg during his first run for Mayor in 2001—when the billionaire businessman spent some $74 million to get elected—may well constitute the most thorough and ambitious per capita gauging of public opinion ever done in New York, if not the world.
When Bloomberg pollster Doug Schoen described the surveys in his recently published book, The Power of the Vote, he said that "it was nothing less than a revolution in political outreach and communications."
Here's what he wrote:
"What we wanted to do was to unify votes across the city based on attitudes, beliefs and values, hence our name for this endeavor, 'the unification model.'"
The "data were clear: core beliefs were more important than the old demographic demarcations."
And writing about the polling that was done four years later for Mr. Bloomberg's easy re-election campaign, Mr. Schoen, a native New Yorker, said that there were "unexpected linkages among the voters of New York City. Time and time again, we discovered surprising convergences in the political attitudes of, say, happy, successful Italian moderates living in Bay Ridge, Brooklyn and middle-class African American Democrats living in St. Alban."
For the Mayor's re-election campaign in 2005, the effort to find such linkages was just as extensive.
The information, one would imagine, could be very valuable to anyone looking to run for office, raise money, lobby on an issue or do just about anything on a large scale in New York.
So where are the polls now?
"I don't really think I can be helpful on that subject," said Mr. Schoen in recent, extremely brief phone interview. "What I suggest you do is talk to Kevin Sheekey, who is one of the Mayor's political advisors. So thank you for calling and I wish you good luck."
Mr. Sheekey hasn't commented publicly on the whereabouts of the polls.
Nor has Bill Cunningham, the Mayor's former senior advisor and communications director.
"Physically, where that is, I don't know," Mr. Cunningham said of the polling information. "It's probably locked away in some computer vault."
Mr. Cunningham, now a managing director at Dan Klores Communications, played down the notion that a pile of polling data constituted any sort of Holy Grail.
"No polling has a life after a certain amount of time," he said. "What is this, May? A poll done at the beginning of April is out of date now."
Still, some of the city's most astute students of politics can't help but wonder.
"It's not that old," said consultant Jerry Skurnik, whose company, Prime New York, compiles voter databases for campaigns. "I would think it still has some value."
Anyway, Mr. Skurnik said, Mr. Bloomberg is term-limited and can't run for Mayor again, prompting him to ask the following, presumably rhetorical question: "What's he going to do with it?"