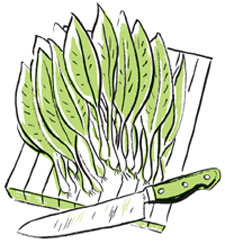 It's that fleeting time of year again, when West Virginian homesteaders and Manhattan foodies fall all over themselves trying to get hold of the scarce plant known as the ramp, which pops up in the wild for a just a few weeks before going to seed. Technically, a ramp is a kind of leek, though it resembles a scallion attached to a long leaf. Many words have been spilled in the attempts to describe its unique taste, but these can safely be boiled down to the following: garlic, onions, chives, garlic, scallions and garlic.
Which is not to say ramps are overpowering or unpleasant. To the contrary: The leaves, in particular, make a fresh and spicy salad, and you can quickly sauté the bulbs (rinse well—that's real dirt!) in olive oil or butter, add salt and pepper, and throw them into a pasta or on top of fish for a quick spring meal.
Restaurants from Jean-Georges to the Spotted Pig are stocking up on the "Tennessee truffles" while they still can, but consider the D.I.Y. route: Berried Treasures farmstand has $3 bunches at the Union Square Greenmarket. Just don't dawdle—they can be gone by lunchtime.
Berried Treasures is at the Union Square Greenmarket on Wednesdays and Fridays, from 8 a.m. to 6:30 p.m