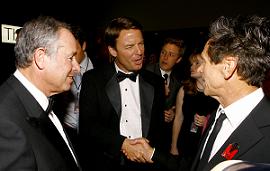 "I've met an estimated 56 of 100," said NBC Nightly News anchor Brian Williams, surveying the crowd at last night's Time 100 gala. "I always assumed I might come as a guest but not a lapel-wearing member."
Oh, Mr. Williams, don't be so modest! Or quite so serious, either: he said he was most looking forward to meeting Elie Wiesel, author of Night.
When guests include the likes of Cate Blanchett, Martha Stewart, Michael J. Fox, Harvey Weinstein, Mayor Michael Bloomberg, Richard Branson, Tina Fey, and Stephen Schwarzman, that almost seems like taking things a bit seriously. (Click here to see more photos from the event.)

But Elie Wiesel was there, just like the others, to be honored at Time's third annual party for the magazine's hand-picked influencers. It was held, as these things are nowadays with an almost monotonous regularity, at Jazz at Lincoln Center.
John Mayer–who performed later that night–conversed with Mr. Branson. Page Six editor Richard Johnson talked to that chummy party-boy duo of MSNBC's Dan Abrams and Men's Health editor Dave Zinczenko. Time's Joe Klein snapped a photo of Mayor Bloomberg. Gayle King and Newark Mayor Cory Booker strolled in side by side. (They also attended last month's White House Correspondents' Dinner together. Just saying!)
And CNBC Tasmanian devil Jim Cramer was giving out his mad two cents about Rupert Murdoch's bid for Dow Jones, en route to the bar, to whoever would listen.
(Incidentally, Rupert, who's not 1 of 100, was being honored at the same time by the Manhattan Institute).
"He's funny, Rupert," said Mr. Cramer. "He's a nice man."
Seriously, Jim.
"I want everybody to win," said Mr. Cramer. "I happen to love the Journal. I start my day reading it every day. I don't think Rupert would have anything bad to do with it. I think it's a shame that they have decided so quickly that he would be a disaster."
He was beckoned by friends at the bar and ran off.
Nearby, fellow media mogul Mort Zuckerman was taking in the crowd. Malcolm Gladwell was no doubt entertaining someone.
John and Elizabeth Edwards drew a small crowd when they entered the room, including Time Inc. CEO Ann Moore, who rushed out to greet them. Elizabeth was the one being honored though, and there were fewer dry eyes (and fewer bottles of whisky) in the room following her after-dinner toast.
It was shortly before 10 p.m. that Time managing editor Rick Stengel made his way up to the third level to bathe in the footlights' glow, so guests could toast the honorees.
Mayor Bloomberg was first, and surprisingly paid respect to Red Auerbach as his "role-model." Later, Mr. Branson played it safe for his toast–going with Nelson Mandela and Desmond Tutu.
This year's Time 100 cover–blown up and plastered all over–featured a cut-and-paste collage of several influencers, unlike past issues.
"I don't think people know enough of what the brand is of the Time 100," said Mr. Stengel, who oversaw his first 100 issue since becoming managing editor last summer. "It's not like the Fortune 500."
"So we wanted to do a picture this year that would draw people in with faces they recognized," added Mr. Stengel, standing near the red carpet. "We want to get ourselves in the 21st century. Even the things that are tried and true, like "Person of the Year," we've tried to change."
That's YOU, remember? But YOU didn't get a fancy Time 100 pin!
What's left but enjoying the herb-crusted rack of lamb, downing a few glasses of champagne, "rocking out" to John Mayer, and toasting one another's super-influentialness?
Movie deals!
"James Watson–of Watson and Crick, whom I know–what was fun is to have him to pitch me a movie here," said producer and intellectural gadfly Brian Grazer, known for courting influencers on a regulary basis.
"What I like is these counterpoint moments: the counterpoint of Nobel Prize winner for the double helix is now pitching me a movie idea," he said.
So is the producer of A Beautiful Mind being pitched a film about the discovery of D.N.A.?
"No, it's about boredom," said Mr. Grazer. "Boredom and having to be politically correct."