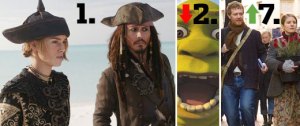 With all the real New Yorkers absent this weekend, having escaped the broiling city for cooler climes, the box office in Manhattan largely followed national trends.
Pirates of the Caribbean: At Worlds End had the touch of destiny, as it steamrolled over the previous Memorial Day Weekend box office record with a $129 million take. Shrek the Third predictably dropped to second place (and dropped hard) with Spider-Man 3 filling out the blockbuster trifecta.
William Friedkin's return to horror, Bug, did decently, raking in $3.3 million on 1,661 screens, but its per screen average, both nationally and here in Manhattan, did little to guarantee that the septuagenarian would be helming Bug 2—that is if the studio in its infinite wisdom decides to even follow the horror film trend and make a sequel.
Rounding out the top five (both nationally and locally) is Waitress, the Keri Russell romantic comedy that keeps moving up the charts. Over Memorial Day Weekend, Fox Searchlight shifted the film into second gear, expanding it into 510 theaters—and with good reason. Its been out in New York for 4 weeks, and it's still averaging over $10,000 a theater.
The biggest surprise so far this summer has been Once, an original musical from Ireland by John Carney. Granted, its only playing on 20 theaters nationally, but it moved into a second theater in Manhattan, and averaged over $30,000 for a second week in a row. It's clear Fox Searchlight wants to build word of mouth on this one, much like they're doing successfully with Waitress. Chat, chat, chat, Manhattan!
It looks like lovers of Japanese animation were able to will Paprika, director Satoshi Kon's follow-up to the critically acclaimed Tokyo Godfathers, into Manhattan's top ten. The film, which played on 2 screens, managed to average over $20,000 per screen, which is not too bad. But the summer can be a cruel time for little movies. Paprika could be delicious, but gone in a matter of weeks.