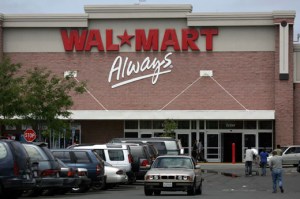 When Wal-Mart does something, it's hard not to notice. Especially in New York, where the mere rumor of the world's largest retailer opening its first store has been enough to send protesters into the streets and set politicians screaming in front of television cameras.
The name of the famously anti-union company has become so politically toxic that an erstwhile member of their board of directors, one Hillary Rodham Clinton, returned a $5,000 contribution from Wal-Mart, as a New York Times story about her ties to the company duly noted this week. And shortly afterwards, on May 22, Michelle Obama—the wife of Senator Barack Obama—resigned her seat at an Illinois-based company whose main customer is Wal-Mart.
But neither that, nor the failure of Wal-Mart's plans in February 2005 to open a store in Rego Park, and in 2006 to open one on Staten Island's South Shore, has stopped its management from quietly pushing ahead with plans to ingratiate themselves into New York's business scene.
Earlier this year, with no fanfare, the company became a member of the Association for a Better New York. That's in addition to their nearly two-year involvement with another of the city's leading labor-and-business civic associations, the Partnership for New York City.
Meanwhile, over the past year and a half, Wal-Mart has also joined the Chambers of Commerce of Manhattan, Brooklyn, Queens and the Bronx.
Wal-Mart explains its institutional gregariousness, despite the fact that it has no stores in New York City, by pointing to the fact that it does do business here.
"Wal-Mart is a significant part of the New York City economy, spending nearly $4 billion in the five boroughs," company spokesman Steve Restivo said in a statement. "This represents goods and services purchased from hundreds of New York City businesses, ranging from small manufacturers to larger companies."
According to Mr. Restivo, Wal-Mart spends about $12 billion with suppliers in New York State, "supporting more than 179,000 jobs, including tens of thousands in New York City," and has "donated millions of dollars to New York City and statewide causes and organizations."
Still, having friends among the city's business and labor elite—Wal-Mart C.E.O. Lee Scott staged a Nixon-to-China moment in New York earlier this month by meeting with health-care workers' union president Andy Stern—won't hurt if and when the company tries (again) to open its first outlet in the five boroughs.
Which, it seems, is only a matter of time.
"Wal-Mart continues to vet potential sites in and around the New York City market," Mr. Restivo said.
Kathryn Wylde, president and C.E.O. of the Partnership for New York City, offered this explanation of Wal-Mart's recent moves:
"Obviously, they wouldn't be joining if they weren't thinking about it. I think they see it as a market that they missed. We certainly have made very clear to their representatives that corporate citizenship is taken very seriously in New York, and not to join us simply as a public-relations effort."
It seems, for now, that Wal-Mart is listening.